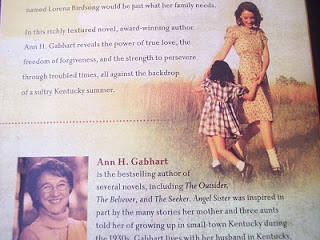 It's finally here. Angel Sister's official release date is Tuesday, February 1. I haven't been bookstore hopping so don't know if it's out there yet, but I'm hoping it is. It's somewhere because my editor let me know the book has already gone into a second printing. That's exciting! But I'm already so excited about this book finally being out for readers that good news like that is just icing on the cake. It's been a long time from when I wrote The End to maybe you as a reader picking it up and turning to Chapter 1. Longer than usual because we wanted the Shaker books to come out first.
~~
But now it's Angel Sister's turn. The top picture is part of the back cover. I love the picture of Kate and Lorena playing. Of course Lorena on the front cover has been stealing people's hearts from the beginning. The cover art people at Revell do such a fantastic job with all my book covers, but with this one it's as if they lifted my little girl character, Lorena Birdsong, up out of the book and took her picture. She is just as I imagined her and the look on her face is perfect too. After you read the story, you can tell me if you think so too.
~~
This story is straight from my heart. And from my mom's heart too since the seed of the idea came from all the stories she and her sisters used to tell about growing up during the Depression years. While the characters and story are completely fictional, the background of the story owes a lot of my mom's stories. The father in the story is a blacksmith. My grandfather was a blacksmith. The father in the story served in France during WW I. My grandfather was an army cook in France in WW I. My mom had three sisters and Kate in the book has three sisters – sort of. My mom used to tell about a couple of odd characters that gave birth to Fern and Graham in my story.
~~
So the shadow of my mom's stories lingers throughout the book even though I made up the characters and what happened to them. I think that's why I'm so excited about this book. It feels like a gift I'm giving my mom. The sad part of that is my mom has dementia now and while she is still able to know I wrote the story with her background in mind, she can't really retain the words well enough to read it. She did read it in manuscript a couple of years ago, so that's good. But that too has leaked out of her memory. Even so, I'm happy to share her spirit with readers. My mom says they didn't have many things when they were kids, but they had plenty of the most important thing – love. So I hope if you read Angel Sister you will recognize that love and embrace my mom's story.
~~
I'm sending out a newsletter tomorrow with details of a new giveaway to celebrate
Angel Sister
. Four ways to win. Sign up for the newsletter from my website
http://www.annhgabhart.com/
. The ways to win will also be posted on the Events and News page of my website. The prizes aren't big, but the contest is fun. I'll give more details Wednesday. There will be lots of other chances to win an autographed copy of
Angel Sister
on various internet sites too over the next few weeks.
~~
As always thanks for reading and I appreciate your comments and e-mails – every one. Hope you had a weekend of sunshine the way we did here. And let me assure you, we needed that sunshine on our shoulders.