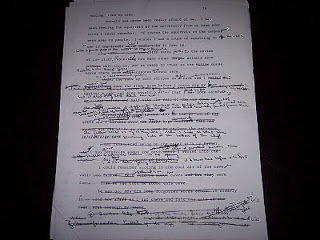 All right, I admit it. This page is from way back when I used to write on the typewriter. Pre-computer days. The dark ages. But I kept this and used to carry it with me when I did school talks to demonstrate to the kids that editing is vital to making your story readable. I never did the cut and paste – the literal cut and paste – that some writers did prior to computers. I did circles and arrows. If you read Stephen King's On Writing you'll see some edited pages that he includes for examples of how he improves his stories. They look something like mine. This page is from one of my chapter books for kids that I wrote in the 1980's.
~~
Now, in some ways, editing is easier. At least physically with the computer. But in other ways it's harder because once you delete something it's gone unless you save a dozen copies. You can't peek back under your cross-out and see what you said first. I miss that paper trail, but I don't miss all the retyping, etc. So it is the computer age and we embrace it. Just don't hit the wrong key and erase everything. I have done that. Lost my work for this reason or that. Computers can die in mid-sentence, you know. I have never been able to re-write a scene from scratch that felt as good as I remember that first written scene being. Whether that's true or not, I'll never know because that first scene went out into dark reaches of never recover land.
~~
So in my last post I had gotten to the galleys and the copy-editor. That's what I'm doing now on my book, The Blessed, that will be out this summer. It's set in 1845. Today I came to the part of the story where I'd mentioned "Ring around the roses." My on-top-of-it editor put in a note that maybe it wasn't called ring around the roses or rosies until the mid 1800's. Kids sang it but where and how much and by what name. I did the safe edit. Cut it completely out after going out on the internet and not finding convincing proof that my character would have played ring around the roses by any name. Several years ago, I had a character in my Hollyhill books be an avid mystery story reader and had him reading John D. MacDonald. But MacDonald wasn't a popular author until several years after the time of my novel. My editor caught that too.
~~
Good editors are priceless. They let you know if your timeline is screwed up. Are you letting your character age in real time? They keep up with those pesky minor characters who might not be in the book but two times, but if you call the same character by two different names, you can depend on a sharp-eyed reader noticing. There are literally hundreds of little things you have to watch out for to keep your story right.Spelling correctly and being a good proofreader are just two of them. Of course you know you can't depend on spell check. It can help catch some errors, but not whether you've said your when you meant you're or their instead of there. Oh, by the way, sharp-eyed readers abound, and I'm glad they do. I want readers to be intent on my story. What I don't want is to jerk them out of the story with clumsy prose.
~~
So I've poured over the galleys, correcting everything the editor points out and all those things I see on my own during this new read through. It's probably been at least 6 months since I last reworked the story. That makes for fresh eyes to see sloppy writing that slipped past me in all my other edits. But I finally get it all read and to the end. I'm still not through.
~~
After a few more weeks, I get the pages. This is my final chance to catch something wrong. Here I am reminded by the editor to not see things I want to completely rewrite. Some changes are fine. Typos corrected. A transition here and there made clearer. A pet word replaced with something fresher and newer. But there's a warning that if I make too many changes – more than 10 percent or something like that – then I'll be charged for the addtional corrections that aren't publisher's errors. But that's okay. By this time, I as the writer should be happy with what's on the page in front of me. I've already rewritten it a dozen times. So I proofread this time very carefully, but I'm only looking for minor mistakes that are easily fixable. I don't skim over this editing phase. Too many times I've found mistakes. Once a whole paragraph had been inadvertently left out. A necessary paragraph. Lots of times there will be typos. And sometimes there are those minor problems with a repetitive word or a lazy word that just slipped by me all those other editing times. Those things can still be fixed. Once more I read all the way through. Once more I get to the end.
~~
By this time I've practically memorized the story, but I'm not really sick of it. I'm anxious for it to go to the next step. I've already seen the cover. The title has been chosen. It may even already be out there on Amazon.com or Christianbook.com or BarnesandNoble.com for pre-sale. But my part is finished. At least the writing and editing part. The next time I see my story it will be in a book. One of those great editors who patiently worked over my book to make it the best it could be will send me a copy by rush delivery. That's always an exciting moment. Holding that finished book. Hoping readers are going to like it. Seeing the back cover. By the way, the back cover of my new release, Angel Sister is great with a picture of Kate and Lorena playing. Maybe ring around the rosies.
~~
At this point, a lot of writers sit down and read through their book again just to make sure everything's the way it's supposed to be. I admit that I have never done that. But for my last book, I should have because even with all our careful edits, one rewritten transition sentence didn't make it into the final copy for printing. A few months after the book came out, one of those sharp-eyed readers asked me how come my characters were in one place one paragraph and in another place the next paragraph. A sentence had been accidently omitted. My editor fixed it for the next print run if there's another print run, but it really bothers me that all those books are out there with that scene looking like I wasn't a careful writer or proofreader. But those things happen. Other writers have said that whole sections were accidently left out or put in the wrong place. That happened to a few of those last books of mine too. A printing mistake that left out forty pages or so. Some readers let me know about that too. The point is mistakes happen even when everybody works hard to keep them from happening. That doesn't mean we shouldn't try to keep them from happening by editing as carefully and as completely as we can.
~~
As I said in the first post – my aim is to make my writing smooth enough that the words disappear on the page and nothing, absolutely nothing is left but the movie playing in the reader's imagination. It takes two to bring a story to life. The writer and the reader. Thanks so much for being a reader. Oh yeah, and by the way, I may talk about the comma in my next post. Maybe it will be Editing 3 – How can one little squiggle of a mark cause so much trouble?
~~
Thanks for your comments. And tune in Sunday. Besides the comma thing, I hope to announce a prize giveaway to celebrate the release of Angel Sister.