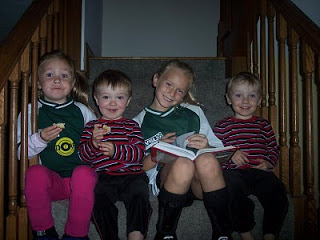 My grandkids love stories. They like to have them read to them. As soon as they start learning the words, they like to read stories. And they like to be told stories. It doesn't matter how impromptu the story is or whether it has plot holes. They just love to hear somebody tell them a story.
~~
And everybody has a story to tell. My book, Angel Sister is edging ever nearer release date. I ordered some copies last week and they said they might be shipped on the eleventh. Two days from now. I'm excited.
~~
I get excited about every new book that I have, but this one seems different somehow. Maybe because it's been so long in the works. And because the background story/setting and the spark of the original idea came from the stories Mom used to tell me about growing up in her little community of Alton. I changed the name to Rosey Corner envisioning a possible series. The Rosey Corner Series has a nice sound, but that didn't get off the ground. But this book finally has gotten off the desk and bound up into a book and is ready to go out into the world of readers.
~~
It is my mama's story in many ways. She had three sisters. Kate in the book has three sisters – sort of. Mama's daddy was a blacksmith. Kate's daddy is a blacksmith. Mama's father served in France during WW I. Kate's father served in France in WW I. Mom's mother and father loved books and reading. Kate's mother and father love books and reading. Mom knew a strange woman and her kind brother in her little town. Kate knows a very strange woman and her kind brother in Angel Sister.
~~
The comparisons mostly end there except for the setting. The story I made up is mine and not Mom's. But she had a story. Everybody has a story. People come up to me all the time and say "Boy, you'd have a bestseller if you'd write my story." And I have heard some pretty interesting stories. So maybe I would. But the thing is I have to tell my story. Even with Mom's story, I had to change it, make the characters mine before I could write the story.
~~
I wasn't trying to write a biography. I was writing fiction. That means I made stuff up. Lots of stuff. At the same time the best fiction is something the reader can believe could be true. At least while he or she is reading. Some of the truest things in a fiction story – things a writer sticks in her story because they really happened – those can be the very things that make a reader think no, that would never happen.
~~
It's absolutely true that truth is often stranger than fiction. Fern's cedar palaces in Angel Sister are some of those true things. The odd woman from Mom's childhood actually did cut cedars and make what she called cedar palaces. While I expanded on the idea for my book, that whole part of the story has a seed of truth in it.
~~
So it's my job as a writer to listen when somebody tells me they have a story. I won't be telling his or her story after I hear it, but whatever I hear, whatever I read, whatever I dream up goes into that idea pool in my inner writer mind and sometimes bits of a story pop out and add to the truth of my story. Everybody has a story to tell. Hope you have a good week continuing your story,