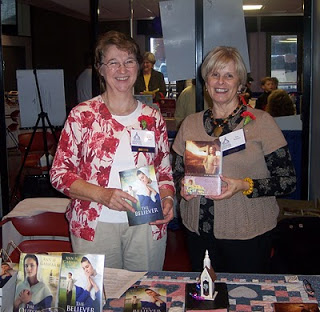 One of the best things about writing for the inspirational market is the other writers I've met and how they always seem to be smiling and glad to hear about your successes. Or if things aren't going so well for you, to offer a sympathetic ear and a caring offer to pray about whatever problem might be bothering you.
Here I am with Jan Watson. This picture was taken at the 2009 Kentucky Book Fair, but we still look just as young as then. Jan and I get together for lunch when we can because there's no one who can understand a writer better than another writer. The first thing Jan said to me today was "Oh, it's so good to see a human face instead of a computer screen." She has a July 1 deadline. I have a July 1 deadline. She's halfway through with her first draft. I've typed Chapter One. Neither of us claim to be fast writers. I have more reason to be feeling a little deadline panic than she does, but we both decided it was good to have a little R & R today.
~~
So what do two writers talk about when they get together? Books, of course. Their own. The ones they've read. How hard it is to get those words down that make a new book. And sometimes they talk about their beginnings. Jan was a nurse at Central Baptist in her pre-writing days and helped a lot of babies into the world. I have been a writer from the time I was a child and never wanted to do anything else. Jan says she could quit writing and be happy. I say I can never quit writing and be happy. Jan won the Christian Writers' Guild Operation First Novel prize in 2004 and her novel, Troublesome Creek was published in 2005. Her story won everybody's heart and she's on her sixth novel about the same set of characters, because readers love her Copper Brown. Jan's never written a book that didn't sell. I've written several that I had to retire to my closet shelf. But I've also written twenty-one books that have made it out on the store shelves . That's because I've been writing more years than she has. A lot more years. Jan is one of those people you like on sight and she has such a Christian spirit of love. It's no wonder that she's so in demand as a speaker and writing teacher.
~~
So we were talking books and future books and I told her we should collaborate on a book titled On the Writing Trail with Jan and Ann. I don't think this project is getting off the ground, but it was good for a laugh and a little critiquing. While I thought it was a great title, Jan had some problems with the Writing Trail part. A wonderful collaborative partnership doomed before it even got off the ground. We have too many deadlines and she has at least three better ideas for future books.
~~
We decided we'd better take it one book at a time and make a date for lunch again this summer to celebrate July and met deadlines. At least I'm hoping for a met deadline. Oh to be halfway through like Jan. But I did type Chapter One. That's something.
~~
Thanks for reading and if we do ever do any Jan and Ann writing, you'll be the first to know. On the other hand, why ruin a great friendship? Some people work best on their own. I'm definitely one of that kind of writers. And Jan's solo way is working pretty good for her too. You can find out more about Jan's books at http://www.janwatson.net/.