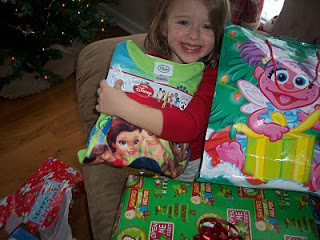 "What we are is God's gift to us. What we become is our gift to God." (Eleanor Powell)
~~
Are you a good gift getter? This little granddaughter of mine is. She was happy over every gift – even a toothbrush and a stocking stuffer box of character inspired band-aids. Here she's happy about some princess pjs. And how about you? Do you pull the pretty paper off your gifts and then smile weakly as you pull whatever it is out of the box? Do you mumble thanks when what you really want to say is "What in the world is this?" Or "What am I going to do with this?" Or "Did you really think I was THAT size?" Or "Gee, I hope you have the receipt."
~~
I'm not the greatest gift getter. Even when it's something I like, my thanks are never the jumping up and down enthusiastic thanks that really rewards the gift giver. I'm the quieter, more reserved "thank you, that's so nice" type gift getter. And when it's something I have doubts about, I'm not a good pretender. My husband gave me a snuggy or whatever they were called last year. You know those blankets with sleeves. He thought I'd like it. I thought he should know me better. The bright pink thing is stuck away somewhere in the back of a closet. I wasn't good at pretending to be excited about the gift in spite of his good intentions. My bad. But…, he should have known me better.
~~
Sometimes we're that way with the gifts the Lord gives us. We all have special talents and abilities, but we don't always appreciate them. We open up our talent gifts and wonder why we couldn't have gotten something else. Something we might be readier to use. Something easier to use. Something more exciting than the gifts we've grown so used to we've forgotten their value. And yet it would be better to pull up our gifts and open them with excitement and joy and thankfulness. To say, yes, this is my gift. I'm going to use it to bless others whether it's a gift of song or story or encouraging words or a servant's heart or the ability to work or pray or to cook or to drive or to do whatever the Lord has enabled you to do to help yourself and others. I hope you can embrace your talents and gifts with joy as you use them to bless those around you. That's all any of us are asked to do. Oh, and smile when we count the blessings of those gifts. Maybe even jump up and down with excitment. That might be nice too.
~~
Hope you all have a wonderful Christmas with many perfect gifts of love and joy.