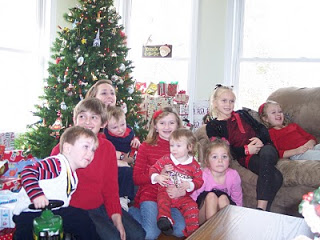 Here's my next generation. Last year they all sat under the tree and smiled patiently. This year the twins were not in the picture taking mood and there weren't smiles all around. Getting nine kids to settle and smile is not an easy task. Did I say an impossible task? But a picture like this just makes it more real. Everything can't always go smooth. Snow and ice can come and spoil a holiday. Viruses show up and really spoil things. The perfect day doesn't always happen, but ready or not, Christmas comes.
~~
And aren't you glad that's true? I'd hate to think the blessings of Christmas were delayed because I kept saying I'm not ready. I don't have all the cooking and cleaning and preparing done. I don't. I didn't. But the kids showed up last Sunday and we had a family Christmas party. Tomorrow we're supposed to have another one, but one son is sick and who knows how many of the rest of his family might catch what he's got. But Christmas will still be Christmas. A million people, give or take a few thousand, will go to a church and watch little angels sporting tinsel wrapped halos sing to bathrobed shepherds with towels wrapped around their heads. Then the Wise Men will parade down the aisles to lay gifts before the baby in the manger. And all of us watching will remember about the greatest gift and the reason for the season. At that exact moment we'll be ready for Christmas whether we have all the Christmas chores done or not. We'll be ready in our hearts and that's the most important place to be ready.
~~
Wishing you a very joyous Christmas and a heart always ready for love.
~~
P.S. Remember to send in those e-mails or leave a comment to get your name in the hat to win some books and surprises. And tell me about your favorite Christmas gift. Sunday I'll share some of my favorite gifts and maybe some of yours too.