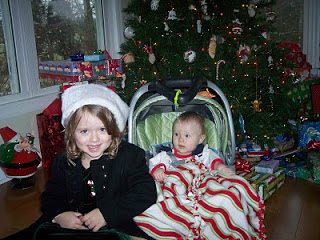 I've been blessed with nine beautiful grandbaby gifts over the years and every year when we have a new baby in the family I take a picture of that baby under the Christmas tree because, in my mind, there's no other gift that can compare to the gift of a new life. Last year this baby's big sister wanted to be part of the picture too. Behind them you can see the nicely wrapped gifts that are going to torn into and scattered and perhaps become a favorite toy or just as likely be abandoned for the more fun boxes the gifts came in.
~~
Gifts are such a big part of our Christmas traditions and celebrations. So I want to include you in the gift giving and getting fun. I sent out a newsletter this week telling about a new giveaway. Books, of course. Don't you think you best like to give the things you most like to get? Although I'll have to confess that if I get many more books, I'm going to need to build on a room to turn into a library. Wouldn't that be nice? A whole room dedicated to books and reading. I can see the leather armchairs and footstools now. No t.v. or computer allowed. Just books. Of course the library shelves I'm imagining are full of those beautifully bound hardback books and not the colorful paperbacks stacked in my bookcase with covers enticing me to take a few weeks off and read, read, read. With the number of books I've been collecting lately, I'd need at least a solid month to even begin catching up on my reading.
~~
That's not going to happen, but I can dream. Of course there's that sticky little problem of how I want to write too. And deadlines looming and new books to edit. So I'll keep doing my best to find reading time because reading is necessary to writing. Reading is not only a pleasure; it inspires and educates and challenges. So that's why I'm giving away books. Some of mine, of course, but since my shelves are overflowing, I'm adding some surprises too. Maybe a book by another author. Maybe a Shaker Christmas ornament. Maybe a box of rocks. No, I wouldn't do that. Too heavy to mail. 😉 I'm not saying exactly what or it won't be a surprise.
~~
This giveaway is a little different. I'll draw five names from the "everybody" hat. That's anybody who sends me an e-mail or leaves a comment here on my One Writer's Journal. Then if you've never won anything in my giveaways and tell me that, I'll put your name in the "I never win anything" hat to be sure one of you won't be able to say that after January. Last, if you tell me your favorite Christmas gift, your name will go into another hat. So you will have lots of chances to win one of my books and those surprises.
~~
I've had fun reading about those favorite gifts sent in by readers of my newsletter. I've got enough fodder for all my blog posts until Christmas and beyond. (Gee, I sound like Buzz Lightyear.) You can be sure I'll report on my very unscientific poll of what gifts made us happy at Christmas time. To start off the Christmas gift report, I want to share a great Chrismas story from reader, Lana.
~~
Lana didn't tell me what year this happened, but I know you'll be inspired by her favorite Christmas memory. When she was nine years old, all her families' Christmas presents were stolen on Christmas Eve. Her mother – there wasn't a father in the picture – had hidden the presents from her five children in the trunk of her car. You can imagine how bleak Christmas morning must have been when Lana's mother discovered the gifts stolen. But she didn't let that spoil her Christmas spirit even though there was no money to replace the gifts.
~~
I'm going to let you hear the rest of the story in Lana's words. "So my mother did two things: she went to a loan company to borrow the money to purchase our first TV set (black and white) and she bought a huge dog bank and we began to save our pennies to replace our Christmas presents and each of us got to pick out a present we wanted. I got a Brownie camera! I was so excited. So we had Christmas in July that following year. I don't recall how long it took her to pay off that loan but it took a while. This may not sound like a favorite Christmas but it brought us five kids closer and gives us something to talk about today when we are all together."
~~
Thank you, Lana, for sharing that beautiful story of how your mother turned something so bad into something you now treasure as a good memory. Your story just goes to prove that love is the greatest gift and the one that we remember forever.
~~
So I'm wishing you all many great Christmas memories and treasured gifts. Share some of them with us if you want. It'll get your name in an extra drawing for that book and surprise. And come back on Sunday when I'll be sharing more of the gift stories I've gotten from you readers. Merry Christmas everybody!