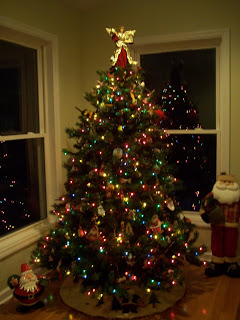 I did my Christmas decorating today. It no longer looks as if I'm moving in or out with all the boxes – except for one room where I've got boxes piled to the ceiling for present wrapping. Well, maybe not to the ceiling, but a big pile for sure. You have to have the right size box for your present after all. But even though I have stacks of nested boxes, I'm sure there will be one present that defies fitting in a box. That's why they make those lovely gift bags that don't take any wrapping. Cram that elephant in there and and stuff a piece of tissue paper on top of it and you got it. Wouldn't you know though that I like wrapped and taped and ribboned packages better. So wrapping presents is my next Christmas deadline.
~~
That is, if I don't get a real deadline before then. I've got a book floating around out there in edit land and sooner or later it's going to land on my desk again with my editor's remarks and suggestions. I don't mind editing because I want to make my story the best it can be, but back when she first suggested edits might be needed her words were that the story might need to be "fluffed" up. That word has hung around in my head ever since. Might I say haunted my thoughts a bit. Fluffed. How do you fluff up a story? Fluff is what Winnie the Pooh got in his ear when he didn't want to listen to Rabbit. Fluff is what that plastic pretend like whipped topping is. Fluff is petticoats under a summer dress. Fluff is pink cotton candy at the fair. Fluffing is what you do to your pillow before you lay your head down on it to go to sleep.
~~
And at Christmas time, fluff is what you do to an artificial tree to make it look somewhat like the real thing. At least that was what I was doing this afternoon after I pried the pieces of my tree out of its plastic storage container. It was really crammed down in there. That in turn smashed the branch-like appendages together and bent the wiry arms in unnatural growing directions. In other words it looked nothing like a tree should look. So the plastic branches had to be fluffed. Fluffing a pretend tree is not my favorite thing to do in the decorating job.
But I did it. In most all jobs there are some parts that are less fun to do than others. Fluffing branches is the less fun task. Pulling out all my sentimental ornaments to put on those fluffed branches is much more fun.
~~
It can be that way with writing a book too. It's not all fun and games. It can be exciting to come up with a new story, but it can be challenging too. And sometimes discouraging when the words are slow to come. Other times it can be a little scary when you're not sure anybody will like the words when they do come. And it can be tedious when you have to go over those words time and time again to make them right. And sometimes you have to fluff it up. Whatever my editor suggests, I know we have the same goal. To make the story one that readers will want to read.
~~
Thanks for reading and I hope all your trees and stories will be fluffed just right.