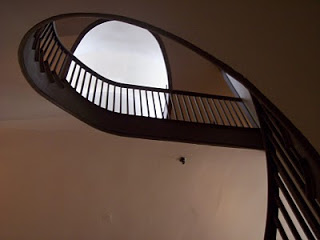 I met a writing friend for lunch at the Pleasant Hill Shaker Village near here last week. And as always I was drawn to the beautiful curving stairways in the Trustee's House. I made those stairways a reason for Adam to go to the village in my book, The Seeker. It's fun to use places in the real Shaker village in my fictional Harmony Hill Shaker village. But I am writing fiction so at times I have to find a new place that will work in my scene.
~~
I bring that up because my writer friend asked me about the pool of water in The Believer. She wondered where it was in the village, and I had to admit I invented that particular spot. I thought there could be a pool of water like that on the extensive Shaker property, especially with the river on one side, but I hadn't actually seen one like it or read about one like it. I made it up because I needed a way to get Elizabeth and Ethan together in a scene. That can be difficult in a Shaker village where the leaders are determined to keep the men and women separate.
~~
My friend was a little surprised by my admission, but a writer does what a writer has to do to make her story work. That's not to say that I play fast and loose with the village setting. I don't. I like staying true to the layout of the village buildings and to the village's history. But a pool of water in the middle of the woods seemed to be an okay invention.
~~
It was a stressful day for my friend. She had an auto accident on the way to Shaker Village and had to have her car towed. Her phone wouldn't work, but the deputy sheriff was kind enough to bring her on out to Shaker village to meet me. (I posted a picture of her getting out of the sheriff's car on Facebook. She was a real sport and kept her million dollar smile on her face.) Our meal wasn't nearly as relaxing as she'd hoped since she had to keep thinking about what she was going to do next and how to get a rental to get home and where and how to get her car to a repair shop in Louisville where she lives. Her cell phone wasn't getting a signal so she had to borrow mine or the village's to make the necessary calls. Then we look at the beautiful staircases and she gets ready to take a picture and her new camera won't turn on. I know about then she's thinking what else can go wrong while she was wishing she'd stayed home and never ventured out to meet me. But she put on a brave face. We ate our lunch, strolled around the grounds, met the oxen, Star and Moon, in training, and then headed for the car rental agency. We had to go all the way to Frankfort for that because the one in nearby Danville didn't have a car to rent. We get to Frankfort and all they have in a gold colored truck. Mary decided gold would work.
~~
But the village was beautiful as always, or perhaps even more so because of the beautiful fall colors and being with a friend. Mary's hoping to write an article about the Shaker village and maybe about a writing friend who likes to write stories about the village. Or one very like it.
~~
Hope you have a good beginning to an even better week.