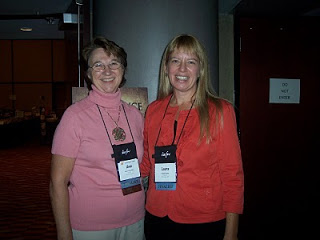 Wow! What a week! Writers, writers, and more writers all in one place.
~~
I did my very first writers conference in June last summer when I taught a couple of classes at the Kentucky Christian Writers Conference here in the state. And then last weekend I was off to my first national writers conference – the ACFW Conference. That's the American Christian Fiction Writers. Over six hundred fiction writers showed up to listen and learn from one another and to pitch their book ideas to editors and agents. Obviously since this was the first conference like this I've ever attended, that's something I've never done. I've sent in proposals in writing or over the internet, but never face to face with editors or agents who hear dozens of pitches every day. I don't know who's braver – the pitching authors or the receiving editors and agents.
~~
Of course they – the editors and agents – are hoping to mine some gold among all the wanna-be writers. And the wanna-be writers are just trying to figure out the magic equation that will help them find the right publisher so they can get their book out in front of readers. I certainly understand that feeling. That I want to be published feeling. Maybe stated even better – the I-want-to-write-a-story-so-good-that-editors-will-be-coming-to-me-to-pitch-their-contract-terms feeling. I'm not sure that ever happens to many writers until they've got a pile of books on the bookstore shelves and readers are anxiously demanding more books. From them! Most of us have to put in some time and a lot of practice words before anything even close to that happens. So many good writers are out there and so many more who are doing that writing practice and getting better and better.
~~
I'm in the photo above with one of those new writers. That's Laura Frantz smiling with me. Her first published novel, The Frontiersman's Daughter was up for a Carol Award. The same one my book was up for. Unfortunately she didn't win either. Mary Connealy won – I think with her book, Montana Rose. She had two books in the finalists so I may have the wrong one. I mean when you don't hear your name announced as winner, you have this moment or two of not listening while you're regretting that you won't get to say that witty acceptance speech you labored over that afternoon and kept silently practicing while everybody else was enjoying their fancy dessert. LOL.
~~
But the conference was fun. And it was especially fun to get all dressed up in fancy clothes and see everybody else's fancy dresses and jewelry. It was great, but I have to admit that I was glad to get back to my hotel room and kick off those nasty high heeled shoes. I'll be posting a few pictures on Facebook and maybe I'll put one of that fancy dress on here on Wednesday.
~~
Thanks for reading. And don't forget to leave a comment or send me an e-mail from my website to get your name in the hat for my birthday giveaway the end of the month. I sent out newsletters right before I left for the conference. If you want to be on my newsletter list, just let me know. Hope you are enjoying a beautiful autumn day the way I am. I'm getting ready to go out and walk with the dogs. I know they've missed me. Till next time, Ann
~~