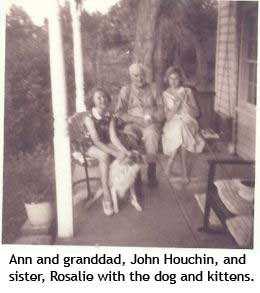 Today is National Grandparents Day. President Carter proclaimed the first Sunday after Labor Day to be Grandparents Day in 1978. The history I read says the day originated with a Fayette County, WV housewife, Marian McQuade whose primary motivation was to promote the need to pay attention to lonely elderly people in nursing home. She also hoped having a special day of honor would persuade grandchildren to listen and learn from the years of wisdom of their grandparents. And wouldn't it be great if grandkids everywhere sat down beside a grandparent today and asked them to tell a story about back when the grandparent was a kid? Trouble is, most of us wait too late to want to hear those stories. Or to record them for the next generation.
~~
Yet, we need that family history, those connections to the past. Here I am with my granddad who was probably in his mid-eighties in this picture. I used to sit by him but he wasn't a story teller and I was too young to know what to ask. Or even to grasp that I might need to ask before it was too late. He passed on before I found those questions. The same with my father. I wish now I'd asked more about his growing up years and those trips he took on a motorcycle when he was in his early twenties. I heard bits and pieces but there was surely so much more if I'd only taken the time to ask and listen. I have listened to my mother's stories when I finally came to an age where I appreciated hearing about how things used to be. So whenever we were in a doctor's office or waiting for this or that, I'd get her to talking about how things were when she grew up. Angel Sister, my novel due out in February, is the result of those conversations. I was able to put myself back in my characters' time because of Mom's stories. The story isn't Mom's story, but the atmosphere of the book owes a lot to her.
~~
Some grandparents don't wait to be asked. They write down their stories for their families. Every person I know who has been given one of these written stories of youth and marriage by a parent or grandparent treasure every word. And it's not just the highlights of life that people find interesting, but also the little details. Ordinary days like blackberry picking or cutting firewood. A "this is how it was for me" story is certainly something all of us who love putting one word after another could do for his or her family. Maybe not only write your story, but listen to the older generation in your family and write that down too. Who knows? You might find a novel lurking in those memories the way I did.
~~
As most of you know I've written several books about the Shakers who believed in celibate living and thought living in small family units of mother, father and children caused too much stress and was against God's will. I can't agree with their thinking there. Today as I think about grandparents, I think how sad that those people who joined the Shakers lost those connections of family. They might have a few hundred sisters and brothers but would never be able to claim a grandparent. In my opinion, grandparenting is a blessed gift. It even says so in Proverbs 17:6. Children's children are a crown to the aged.
~~
I've been putting some favorite grandparent quotes on my Facebook author page this week. In case you didn't see them, here are some of my favorites.
Grandmas hold our tiny hands for just a little while, but our hearts forever. ~Author unknown.
Nobody can do for little children what grandparents do. Grandparents sort of sprinkle stardust over the lives of little children. ~ Alex Haley
The simplest toy, one which even the youngest child can operate, is called a grandparent. – Sam Levenson.
To a small child, the perfect granddad is unafraid of big dogs and fierce storms but asolutely terrified of the word "boo." ~ Robert Brault
~~
Hope you have many good memories of times with your grandparents. I'll be having some good times this week as I spend a couple of days with my husband at the National Quartet Convention and then go to my first ever national writers conference, the ACFW Conference. Plus I'm going to get to celebrate getting older. I don't count the birthdays, but I sure do celebrate them. One way I celebrate is by giving away books. You can be one of the lucky winners of one of my books and a surprise by sending me a message from my website or leaving a comment here. You can check out details of my birthday giveaway on my events page on my website.
~~
Thanks for dropping by today.