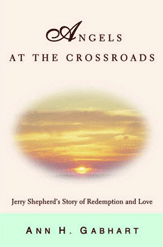 Have you ever put something off that you needed to do? Over and over again? For almost a year now I've been planning to give my book, Angels at the Crossroads a cover make-over. Angels at the Crossroads is the only non-fiction book I've ever written and probably will be the only non-fiction book I'll ever write. I like making up my stories. But this book is different. It's the life story/testimony of Jerry Shepherd who used to sing in the Patriot Quartet with my husband. Some of you may have read his story.
~~
Anyway after The Scent of Lilacs was published and we were riding around on that big old bus getting to know everybody in the group almost too well, Jerry would talk about what happened to him when he was a teenager and young adult. He messed up, plain and simple, got mixed up with drugs and alchohol and because of things he did a man died. Jerry ended up in a Georgia prison for murder at the age of nineteen. He could have given up there and lost all hope, but the Lord wasn't through with Jerry. He gave him a second chance by putting people in his path (earth angels, if you will) to guide him back to hope and forgiveness. Because of that love and forgiveness, Jerry promised to tell his story any time he had the chance to keep others from making the same mistakes he made. Even before he got out of prison he was witnessing about how the Lord had forgiven him and helped him step out on a new road. It's a powerful story. Not because I wrote it but because of how the Lord worked in Jerry's life.
~~
So after I wrote that first Hollyhill story and had heard the great news that Revell wanted to publish it, I had the strong feeling that the next story I wrote down should be Jerry's story. And I promised Jerry if he let me write his story I would make sure the book got published – one way or another. My editor read the finished story and turned it down saying it wouldn't have the market appeal they needed to publish a book. Other editors turned it down. And I was left with my promise. So I went the self-publish route, but I made one big mistake and that was the cover. It's not right for the story. As one reviewer said it looks like the cover of a collection of homilies. Jerry's amazing story is inspirational, but at the same time it's gritty and raw. And while a sunrise does play a part in his story, I should have rejected the cover and held out for one that gave a better representation of the story. That's where I am now. We've about sold out of copies and I don't want to print any more with the old cover. I've known that for months. For months, I've put off doing anything about it. I think I kept waiting for a sign. Somebody to come grab the book and say here's the perfect idea for a new cover and we're going to make it happen. Well, unfortunately that hasn't happened. I finally had to realize that if the book got a new cover, I was going to have to get things rolling. I have pushed the start button – at last. Now I just have to decide what to suggest for the cover art. Not pink for sure. I keep seeing an open prison door. Other people have suggested a police car with lights flashing. Somebody said a deserted car with the door open. Perhaps at a crossroads. If you've read the book, what would you suggest?
~~
Thanks to all of you who entered my book giveaway. Details are on the Event page of my website, http://www.annhgabhart.com/. I'll be drawing for the winners on Tuesday, but you can still send me an e-mail to enter or leave a comment here.
~~
Hope you're having a beautiful Sunday. Talk to you again next week.