Sort of an odd combination, but then in another way it fits. First let's talk butterflies. There seem to be more of them out here on the farm this year. Maybe all the nice rain and warm, very warm temperatures have been good for the butterfly population. Don't you feel as if the Lord has sent down a blessing to you every time you see one of these beautiful creatures? I just got back from a walk where I saw dozens of them in all sizes and colors. I didn't have my camera with me so this beautiful butterfly shot was from a free photo site and credited to pdphoto.org. I've taken a lot of butterfly pictures, but none of them were loaded on this computer. I think one of my butterfly shots is over on my webpage. But butterflies are spirit lifters. Plus they flit about first here and there. And as I said, each species has its unique color scheme and size.
~~
You know what? So do bloggers. They can be spirit lifters. They, the subjects, can flit first here and there. And each blogger has a unique outlook on life that colors his or her words. I signed up for that Google alert thing where it lets me know when something new is posted on the web about one of my books. So this last week I've been getting quite a few alerts about my book, The Seeker. My book has been on a blog tour, traveling all over while I sit at home and read about what bloggers think about it. If you are one of those people who review books on a blog, you probably can't imagine how hesitant a writer might be to click on your review and see what you said. We care what you say. At least I do. I've met writers who don't read reviews, but I usually do. If it's good, I'm glad. If it's not so good, I just shrug my shoulders and say maybe they'll like one of my other books.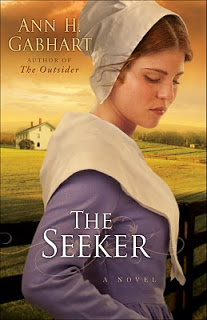 ~~
Just for fun, I'll show you a few of the nicest comments.
~~
From the Harrison Family Blog: "The plot moved at a good pace and the characters were great! I also loved how the romance came about – very creative. A thoroughly enjoyable read." (I think it's neat how they have a family blog.)
~~
From Carlybird's Home: "I picked up this book and I was completely enchanted by Charlotte's story. This book had everything I was hoping it would have." (Carly's my new best friend. ;-))
~~
From Jean on A Slice of the Epic: "I thought the history lesson throughout this book is what made it shine. Especially about the Shaker community and their beliefs." (Hope that doesn't make me sound like a history teacher!!)
~~
From Kristie on Moments: "You will be quickly drawn into the story and you will not want to stop until you finish the book!" (That's always a writer's favorite comment. "I didn't want to put your book down.")
~~
There were lots of other comments and reviews. So many that with what's been going on with Mom this week and the edits due for the next Shaker book, The Blessed, I haven't had a chance to read them all or to thank the bloggers/reviewers. But I do appreciate everyone who reads my books. I really do and then I think it's neat when some of the readers take the time to write some comments. Most have been favorable and kind. I once offered a potential book buyer a list of excerpts from reviews about my first Hollyhill book, The Scent of Lilacs. With a smile, she just handed it back without looking at it and said, "You wouldn't put any but the good ones on there." And of course she was right. Not many of us want to shout out the bad remarks about us. We let them worm their way down inside of us where they can gouge and poke us and make us uncomfortable. No, I don't do that either. I just get back to work on that next book. That's what I need to be doing right now. So to the edits and then to stay with Mom.
~~
Thanks for reading and may a beautiful butterfly float in front of you sometime on your journey today.