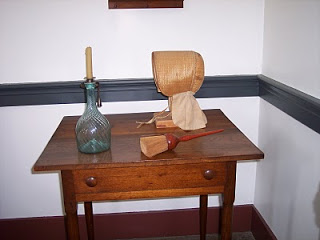 I did a live internet radio show last Thursday night on Amish Wisdom with host Suzanne Woods Fisher. Suzanne is the talented and popular author of Amish fiction and non-fiction including the best selling novel, The Choice. On her show that airs every Thursday at 5 p.m. EST she interviews authors of Amish fiction, Bed & Breakfast owners, and others who have a connection to the Plain life or are striving to live simple. I don't write about the Amish or have a Bed & Breakfast or make quilts, but the Shakers did have a song "Tis a Gift to Be Simple." They aimed for simplicity and plainness in all they did. Their furniture had no decorative swirls and designs. Their clothes were basic attire with no lace or fancy trimmings. Their houses and buildings were sturdy but lacked porches or fancy woodworking. And in their pursuit of the simple, plain designs they found beauty.
~~
So Suzanne asked me to be a guest on her show to talk about the simple ways of the Shakers. I'd not done a live radio show before and as it turns out, I still haven't – exactly. Oh, we were live (and maybe even lively) talking about the Shakers, but the internet station had server outages and nobody in my part of the country was able to get the show to come up. But you can listen to the archived program now at
www.toginet.com/shows/amishwisdom
. I even got brave enough to listen myself. I thought I'd better do that before I posted the link out there on Facebook or mentioned it to anybody in case I was glad the server was out and nobody heard me!!
~~
And while I wondered for a few minutes if that was really me talking, the interview didn't sound too bad. Isn't it odd how our voices never sound the way we think they will when we hear them recorded? I hear one tone of voice in my head and everybody else hears me another way. I remember the first time I heard my voice recorded. I was in high school and I vowed never to speak again. Of course that lasted all of five minutes. A friend sent a link,
www.scientificamerican.com/article.cfm?id=why-does-my-voice-sound-different
, explaining the scientific reason for this for those of you out there with inquiring minds who want to know. You can find an answer to almost anything out on the net somewhere.
~~
But voices are important. I used to have a part time job where I scheduled substitutes for the school system and I could usually tell on the first call if the person was going to be a good substitute or not. And not always by what they said, but by their voice. That's why they tell you to smile while you're talking on the phone if you want to make a good impression. I smiled some of the time while I was talking to Suzanne last week. I'm sure I did.
~~
Voices are important in fiction too. Dialogue is such a vital part of fiction these days. People like to listen in on your characters talking. At Bible study tonight, I got a really nice compliment from one of my church friends who's reading my new book, The Seeker. She said she just loved "hearing" Mellie (one of my characters) talk. And that's what I want readers to do. To hear my characters talking in their heads. Just the way I do. Just the way I hope you do if you read one of my stories.
~~
Hope all the voices you're hearing are saying good things!