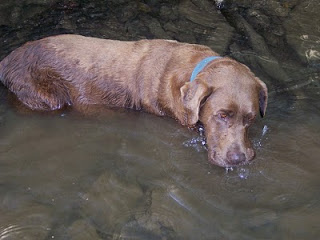 Ah, summer, what power you have to make us suffer and like it. – Russel Baker
~~
I like seasons. I like spring and autumn and even a few weeks of winter as long as the snow doesn't linger and the ice is only in the ice bins in the fridge. Hate those ice storms. And I like summer. Even when it's hot the way it's been this year here in Kentucky. It's hot!! In Kentucky we usually say it's not the heat. It's the humidity. This year we're saying it's the heat and the humidity.
~~
But we are getting rain. So it's not like it was a few years back when all the fields turned so brown it hurt your eyes to look at them and you wondered what the poor old cows were finding to eat. And do you remember how the grass crunched under your feet when you walked outside? Nobody made much money mowing yards that year. This year the lawn mowing people are doing very well, thank you. It's hot and it's raining and the grass is growing.
~~
I remember having hot summers like this when I was a kid. We didn't have air-conditioning. We didn't even dream of having air conditioning. That would have been crazy talk. We had fans and shade trees and creeks to cool off in on the hottest days the way my old dog is cooling off in the creek here. Now we have air conditioning and I have to wear sweaters in the house when it's ninety outside. Of course my husband is still sweating while I'm wearing sweaters. I think he'd like the thermostat set on sixty-five. Brrr!! I want to know it's summer even when I'm inside. We're not climate control compatible, but we compromise. He tries to keep his cool and I'm like Mr. Rogers putting on my sweater.
~~
But there are so many good things about summer. Kids are out of school so they can come visit Grammy and Pa. Fresh veggies out of the garden. Wading in the creek. Blackberries. Hummingbirds and butterflies. Ice cream. Family reunions. Vacations. Long days and walks at twilight. Lightning bugs. Swinging on grapevines. Sno cones and caramel apples at the fair. What do you like best about your summers?
~~
Of course a really good thing about the last three summers is the release of a new Shaker book for me. The Outsider came out in August 2008, The Believer is August 2009 and now The Seeker in July 2010. And the next one, The Blessed, may be out summer 2011. It's fun to have a book out in the summer time. Well, actually it's fun to have a book out any month of the year. That's what writers work toward – seeing their books out there in readers' hands. I've always thought about how neat it would be to go in a doctor's office waiting room or wherever and see somebody reading my book. Somebody I didn't know. So far that hasn't happened, but I do peer at the book title whenever I see somebody reading. Right now if you have a Kindle you can get a free download of The Outsider for the next few weeks. Free is a nice price! You just want to double check and make sure it's still free when you get ready to download since it is a limited offer. I think the offer is good for a couple more weeks.
~~
Also summer is the time when they announce the finalists for the ACFW (Amercian Christian Fiction Writers) Carol awards or what in years past were the Book of the Year awards. And guess what? The Believer was picked as a finalist in the long historical romance category. How neat is that? Last year Summer of Joy was picked as a finalist in the long contemporary category and now The Believer. Lots of great books on the list. When I find the official link I'll post it on Facebook or put the entire list on here Wednesday. Plus I'll be writing about a new giveaway.
~~
Thanks to those of you following my journal. Hope your summer is the best yet. Just remember this Swedish proverb. A life without love is like a year without summer.