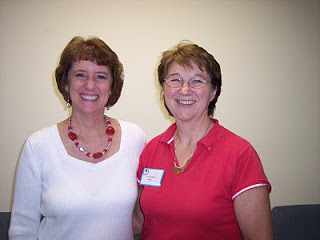 Criticism is something we can easily avoid by saying nothing, doing nothing, and being nothing. –Aristotle
~~
Virginia Smith and I were all smiles after the Kentucky Christian Writers Conference a few weeks ago. Ginny was the keynote speaker and did a fantastic series of speeches about the writing road. She used her own experience including the potholes and bumps she has encountered and her words were very inspiring for the writers in attendance. And for the fellow staff people like me.
~~
I taught a couple of classes. One about character (twice) and one about revision. People actually came to listen to what I had to say about both. The room was overflowing for my first character class and then only one showed up for the repeat of the class – the staff person assigned to my class. So I told her the old joke about the farmer who was the only person to show up for revival services and the preacher asked if he wanted to just skip the service and go home. The farmer said, "Well, preacher, if I go out to feed my cows and only one old cow shows up, I still feed her." So the preacher got behind the pulpit and preached his entire message as if a hundred people were listening. When he was through he asked the farmer what he thought. The farmer gave the preacher a look and said, "Well, preacher, when I go out to feed my cows and only one old cow shows up, I don't give her the whole load!" That story's always good for a laugh. Especially when I tell whatever sparse crowd I'm speaking to that they're going to get the whole load. Another person wandered in and the three of us had a good class. The two ladies didn't seem to get over full even though I unloaded the whole load on them.
~~
At the end of the conference the attendees were asked to fill out evaluations of the classes they'd attended. Last week I got the summary of those evaluations and a few remarks from the people who had come to my classes. There was a star rating system with five stars being the best and one star being not so good. I got three times as many five star scores as four stars and only a few three stars. Guess which ones I think about most? The remarks were that way too. "Enjoyed." "Very entertaining." "Good speaker." "Good points." "Good presentation." And more along this line, but then there were those two or three remarks that sort of made the good ones fade like invisible ink. "Inexperienced speaker." "Hoping for more." "Not much new info."
~~
Now why, when I think about the evaluations, do I dwell on the ones that pointed out places I might have come up short? Do you think it was because I thought I did come up short? Why can't I just believe those thirty of so people who enjoyed the classes and gave me such great feedback?
~~
That's the way we are, isn't it? That critical word sticks to us like a cocklebur while we let the good words fly right past our ears. We need to accept the good. That's not to say that I couldn't have done better with the classes. I could have. Maybe that's why the remarks stung a little, because I saw the truth in them. If I teach more conferences I'll be ready to improve on what I did at this one. So maybe even though criticism can sting, we learn more from it than from praise.
~~
If you want to hear a live internet radio interview with me tune in tomorrow (Thursday) afternoon at 5 p.m. EST to Amish Wisdom with host Suzanne Woods Fisher. I'll be talking about Shakers and not the Amish, but it still sounds like fun. You can check out the website and connect at
http://toginet.com/shows/amishwisdom
. Plus you can leave a comment there to have a chance to win an autographed copy of
The Seeker
. The final winner in my June and July drawings was Anita from NC. She won the Shaker gift, a bun and bread warming stone, along with the copy of my book. I'll be doing a new giveaway soon.
~~
Love this quote below. Hope you have more love than criticism this week and every week.
~~
Flatter me, and I may not believe you. Criticize me, and I may not like you. Ignore me, and I may not forgive you. Encourage me, and I may not forget you. Love me and I may be forced to love you. -William Arthur Ward