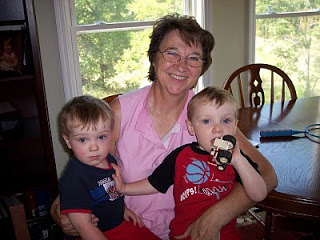 Whew! Whoever said twins were no more work than one couldn't have been talking about toddlers. We had the boys here at the house for a few days last week and believe me, I got my exercise without worrying about setting aside time for a walk. There wasn't any setting aside time for anything except chasing boys. Especially when we went outside to see the dogs. They liked heading off to do independent adventure seeking then with one boy going one way and the other boy going the opposite direction. As they hightailed it for the field or the garden or the far reaches of Africa perhaps, they'd sometimes look back at me and grin while they kept trucking until grandma grabbed one of them up and then ran to cut short the other's journey and make them come back to the yard.
~~
But aren't they cute? And you will notice that I'm still smiling. Hair is only half combed and if you could see the floor in the picture, you'd wonder how we could walk for the toys scattered everywhere. What is it about kids that dumping toys you've just picked up is the most fun of anything they can do? For sure there were lots of hugs and kisses to go around.
~~
But Sunday morning I packed them up and took them back to Mom and Dad. Then I had to rush home to get to my hometown book launch for The Seeker at the local library. I've been doing this every time I have a new release for the last five or six books now and it's always one of the most enjoyable events I do. Friends from church and neighbors and people from town who've known me since I was a kid growing up here come out and we talk books. They listen to me talk mostly, but then it's great to hear what they have to say. We laughed a lot yesterday. They thought it was funny when I told them how I'd left things at the house with the trashcan in the shower stall and the toilet paper up on the windowsill and cereal scattered to the four corners of the kitchen. They were a good bunch and I always feel so honored that people will take time out of their busy schedules to come listen to me tell them about my books. They were a good looking group, but I forgot to give somebody my camera to take pictures while I was talking so you'll just have to take my word for it. There were also several people there from our Central Kentucky writers group and I really appreciate their support.
~~
I had thought about making brownies and lemonade, but I was being too optimistic on how much time I'd have to cook, etc. while the twins were here. Way too optimistic. Darrell had to go to town to get food. 🙂 But I did take Dove chocolates that have those inspirational messages on the inside of the wrappers. I read one that seemed to fit the day. "The more you praise and celebrate your life, the more there is in life to celebrate."
~~
It was fun celebrating a new book with my hometown friends. Hope you have good things to celebrate this week.