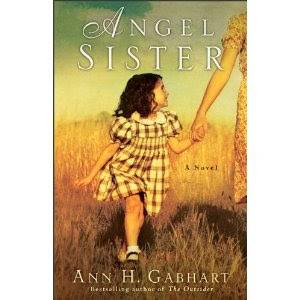 What do you think about the cover of my next book, Angel Sister, scheduled for release in February 2011? I really like it. The little girl is a perfect Lorena and doesn't it just look like she's gazing up at her "angel sister?" I had been holding off sharing the new book cover since The Seeker has just hit the market and started landing in readers' hands. I didn't want to overwhelm everybody, but then Fiction Finder posted Angel Sister's cover on their Facebook page yesterday. So I thought I'd better get with it and let my reading friends see it first from me and share some of my excitement over another beautiful book cover.
~~
As you can tell, this is not a book set in my Shaker village of Harmony Hill. It's set in 1936 and is the story of the Merritt family. My mom and her three sisters used to tell stories about when they were growing up and usually ended up laughing until they cried. They had to have lived in a community with the weirdest assortment of characters you might ever want to meet. So I took all those stories I'd heard so many times, got Mom to tell me a few more, and then read some WW I history (there's a flashback romance to WW I) and put it all in the fiction blender in my head and after changing the characters into people whose stories I could tell came up with Angel Sister.
~~
It is without a doubt a story of my heart and I'm hoping readers will too even if it is different from my Shaker books. Don't worry I'm still working on a couple of those for the future too. But you know, that's one thing about my books. Even the Shaker books. They're different. That's good, isn't it? You don't want me to tell the same story over and over again only changing the characters' names. You want different, don't you? I certainly do. In writing stories and in reading them, too.
~~
But back to the book now, The Seeker. The Corinth Parable Bookstore in Frankfort, KY is hosting a book launch for me this Friday, July 2 at 7 p.m. I'll be talking a little about writing The Seeker and then those who are there will have time to talk and ask questions – my favorite part of any talk. If you're in the area, come out and join in.
~~
And now for this week's winner of an autographed copy of The Seeker. It's Samy of Pennyslvania. I'll be getting the book off to you sometime next week, Samy. The rest of you still have a few more chances to win if you sent me an e-mail from my website or made a comment here. And if you haven't thrown your name in the hat, you still can.
~~
Hope you have a great week and thank you for reading. And if you get a minute, let me know what you think of the cover for Angel Sister. Last but not least, if you're reading this, Happy Birthday, Johnny!! Today's my oldest son's birthday. Can you still claim 39 when your kid has to stretch the truth to say he's that age? But I remember my first sight of him as a little baby. He was screaming in outrage, but he was still beautiful. And so loved. My life was forever changed.