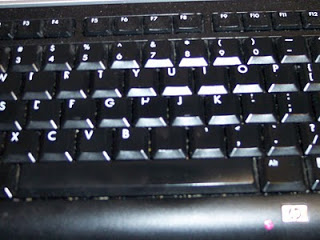 The letters on the keypads of my keyboard are disappearing. You think that means I've typed too many words? Look at it! The n and m are completely gone. The l is going, and the e is half gone. And the e key is worse than disappearing. It's collapsing. Still works, thank goodness. Can you imagine trying to write anything in English without an e key? I tried to hook up a new, well actually an old keyboard to the computer today. I could see all the letters on the keypads but unfortunately my computer chose to ignore that keyboard. So maybe it's time to go keyboard shopping. Before the e stops working altogether. And me needing to edit Shaker 4 before Mr. Deadline breaks down the door and lets me know time's up.
~~~
I'm having troubles with more than the keyboard. The internet keeps freezing up. Or actually "not responding." Do you think the Lord gave us computers because He wanted us to learn patience? Or how to handle irritation and overcome frustration? Or learn to write without using the letter e? That would take some creative thinking. In this paragraph alone there are 34 e's. If I didn't skip over a few when I did my count.
~~~
I'm not frustrated over my book, The Seeker, landing in people's mailboxes this week and pushing their way out onto the store shelves. We decided to stay with the July 2 book launch at Corinth Parable Bookstores even though people are already picking up the book. The store may offer hotdogs to bring people in. Free food is always an enticement. Plus I'll be talking about how I wore out a keyboard writing about Shakers. Some of you might want to hear that while you're chowing down. We usually have a fun question and answer time after I talk a little about writing. That's always my favorite part of any talk. I like trying to come up with answers. Maybe that's why I like writing. The challenge of coming up with answers about what my characters are going to do next.
~~~
Questions, anyone?
~~~
P.S. Don't forget to send me a message to throw your name in the hat for a free autographed copy of The Seeker if you haven't done so. Two winners so far – Charmaine and Shirley. If you've already entered, you don't have to enter again to be in the drawings. The names stay in until I've done all the promised drawings. Check out my website for details.