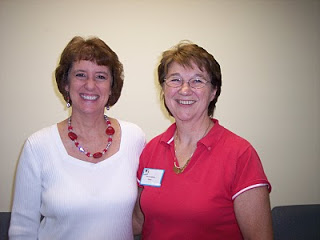 Here I am with Virginia Smith, writer and great keynote speaker at the Kentucky Christian Writers Conference. Ginny did a great job of firing up all us writers at the conference with her three speeches on The Road to Publication. She told us about her bumpy road as a writer when she went for years without selling any of her writing and collected 143 rejections. She kept all of them in a file. I've collected my share, probably more than that, but I certainly saw no need to keep them all or count them. The ones I wanted to count were the ones that said yes. I threw those "we're sorry" letters away. Or most of them. I probably still have a few scattered in among the pages of my writing journal. I did keep a running record of my submissions and the responses. You can believe I put stars beside the ones that sent checks for those first short pieces I sold back when I was learning to write. That was before I tackled a novel. The checks were very small but the knowing that somebody was willing to pay anything at all to publish my words was encouragement worth thousands.
~~~
This is the only picture I got. I was too busy talking to people and listening to people and running from the bookstore to my classroom and back for picture taking. And making friends. I did a lot of that. Everybody was so nice to a first-timer like me. Somehow I've missed out on writers' conferences prior to this. Most Christian writers attend conferences, but that was something I didn't even know they had until after I'd published my first Christian novel, The Scent of Lilacs back in 2005 and met a few other Christian writers at book fairs. Those writers were always surprised to hear I had never been to a conference. Well, now I won't have to surprise them. I have a Christian writers' conference under my belt.
~~~
I taught three classes and people actually came to hear what I had to say about making characters come to life and about revising. I was sure people would avoid that last class about revising because that's not something most writers like to do. But they came and they listened and I hope went home with some idea of how to polish their writing to make it better. And I hope they were encouraged. That's what I wanted to do. Encourage the people I met. I told the lady who is going to be one of the coordinators of the conference next year that I didn't think there was anything better than being an encourager – a role she had felt comfortable in for years as a pastor's wife. And now she was going to be an encourager of Christian writers.
~~~
My book is hitting the stores and people's mailboxes. So much fun. And the winner of the second week's drawing for a free autographed copy of The Seeker is Shirley Garwood. Congrats, Shirley! I'll be getting in touch to find out your mailing address. It's not too late for you to join the fun by e-mailing me or leaving a comment here on One Writer's Journal. That's how you can add your name to the pot for the rest of the drawings. I'm still planning to give away five or six more books.
~~~
Enjoy your week and take a few minutes to read a good book. I've heard that Gabhart woman has a new one out. 😉