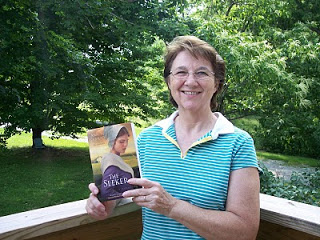 It's fun when the doorbell rings and it's the Fed Ex driver bringing a new book. Especially when it's your new book or I suppose in this case – my new book!
The Seeker
is all printed and ready to go. This was an early rush "so I could see it first" copy but the others will soon be on the way to me and to stores. At least that's what I'm hoping. So if you want to be in the drawings I'm doing all through the month of June e-mail me from my website,
http://www.annhgabhart.com/
or leave a comment here. You know something like "Yeah sure, I'd like to win a free book." I even pay the postage. That's because I enjoy hearing from reading and writing friends and I enjoy sharing my books.
~~~
It looks good. They always look good when I see all my words printed out and bound up in a neat book. A lot of people are saying the book as we know it is going to disappear and I'm no teller of the future, but I do know I like holding a book in my hands and turning real pages. You may feel different. A lot of people really enjoy their e-book reading devices and I might like them too for certain books and for researching on the fly, but there's still something about settling down with a real book. And a nice tall glass of iced tea. And oh what the heck, let's eat a little chocolate too. Then we can let our imaginations take off for who knows where. Maybe a little town in the middle of Kentucky. Maybe a world no one's ever heard of before. Maybe a Shaker Village back during the Civil War. That last one sounds interesting. ;o)
~~~
Thanks for reading. Now I've got to get back to work searching for those elusive two words "The End" on my next Shaker book. I'm thinking about the titles The Blessed or The Given. Of course I realize you have no idea what the story is about except that it does return to my Shaker village of Harmony Hill. So what do you think about those titles? Would they catch your interest?