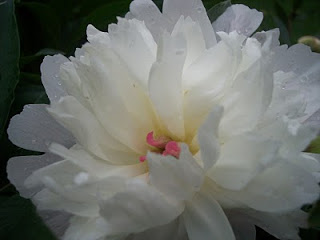 Peonies are my very favorite yard flower. They have always been so since I was a kid and one of my favorite games was jumping over the peony bushes in the front yard of my grandfather's house. I had to take a running leap and sometimes my foot clipped the green bush as I hit the other side. Don't ask me why that was so much fun. Just believe me when I say it was. Those bushes issued me a challenge every time I looked at them.
~~And then the flowers are so big and full with that great spicy scent. A rich flower that faithfully returns every year and requires hardly any maintenance. The white ones in my yard are taken from those jumpable bushes back when. I've got some pink ones too. Those are from my mother-in-law's yard. I dug up every bulb after her death and we were selling the house. They could have the house, but not her peonies. Of course peonies aren't perfect. The blooms are heavy and when it rains the beauty of the blooms hits the ground. That's when it's time to fill up a vase and enjoy the blooms and their distinctive odor inside.
~~Peonies also figure in one of my saddest memories. I had a beloved aunt. She never married and she loved me and my sisters like a doting grandma. And we loved her every bit as much. My aunt suffered from depression. One May over forty years ago while the peonies were in bloom her depression proved fatal when she committed suicide. I was a month from having my first baby even though I wasn't much more than a child myself at seventeen. And when the hearse came to get my aunt's body, the driver ran over the peony bush and mashed all those beautiful flowers. I wanted to lift those blooms back up, bring them back to life – to change what had happened. But I couldn't.
~~That's how life is. Full of tragedies. Full of beauty. Full of love and sometimes sorrow. All intermingled and twisted together so that there's no way to pull out the beauty without knowing the sorrow. So I rejoice in the peony blooms each spring and each spring I remember a time when the blooms were ruined. But I don't want to dwell on that sad spring. I want to remember the peonies in bloom and a little girl taking flight over the bushes and an aunt who loved me well.