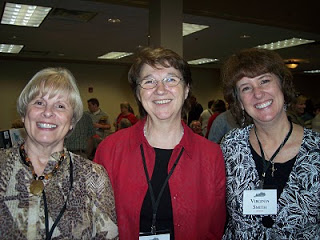 ~~Here I am with my table sharers at the Southern Kentucky Book Fest, Jan Watson (Sweetwater Run) and Virginia Smith (Third Time's Charm). I'm in the middle with Jan on the left and Ginny on the right. See us smile. That's what you do when you go to a Book Festival. You smile and smile and smile some more. Mostly because we want to. We like talking to readers and we hope if we smile readers will like talking to us. And then of course sometimes we're smiling because a reading friend we made the year before comes back to our table to buy another book since she enjoyed the first read so much. The Christian market was well represented at the Book Fest with not only us but also Eric Wilson (Fireproof), Patti Lacy (What the Bayou Saw), and Travis Thrasher (Ghostwriter) and others.
~~Around one hundred fifty authors were at the Book Fest with all sorts of fiction and nonfiction books. You could find mysteries, romances, young adult books, histories, memoirs, cook books, picture books, and poetry collections. That's one of the fun things about going to a book fair – seeing the variety of books. And authors. The same as books, authors come in all sizes, styles and attitudes. Some authors smile and try to engage the readers with conversation or entice them to their tables with chocolate. The cake doctor, Anne Byrne, even had cake for people to eat along with plenty of napkins. Other writers sit quietly and wait for readers to approach them. Some writers desert their stacks of books to explore the other aisles of books. A few writers spend the time reading or writing notes. Some even bring editing work. Nearly all of us enjoy comparing writing stories with the writers sitting next to us.
~~Many of us admire with just a wee bit of envy the long lines that form for the more famous writers' autographs on their books. The longest lines this fair were for Laura Numeroff who wrote If You Give a Mouse a Cookie and for mystery writer, Lisa Scottoline. Actually it was fun seeing all the kids clutching books that had been signed especially to them. Their parents and grandparents were giving them a great gift helping them along the road to a life long love of reading.
~~Of course the readers on the other side of the tables come in all shapes and sizes and reading tastes too. I met a woman long haul truck driver pushing her grandson in a stroller and a retired doctor who used to go to church with Julia Neal. Neal wrote one of the Shaker books I use in my research. I met a little girl of about seven or eight who had written and illustrated her own little picture book and with mom's help had it published. I met a couple of young women who were writers – as yet unpublished but working toward that goal. I met school teachers and librarians and other book lovers. I remembered some faces from previous book fests who come every year to go fishing for a few good books to read. People who connect with books are easy to talk to and that makes a writer like me smile.
~~Hope you have a lovely week ahead and that sometime in the weeks and months ahead you'll have the opportunity to go book fishing at a book festival near you. Or if you're a writer that you'll get a chance to try to catch some new readers. Your best bait is a great book. And a smile.