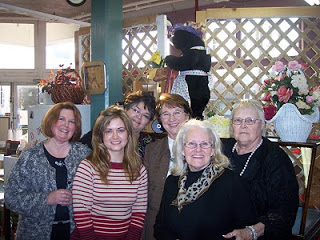 I had the treat of getting to go to a book club meeting last week. One of the members contacted me and since the meeting was in a neighboring town, Taylorsville, I was able to make the drive to share their book talk. The picture is of a few of the ladies in the club. I always take my camera and I always forget to get it out until about half the people have gone home. But those still there posed with me. The club meets at The Red Scooter, an antique mall with lots of booths of neat items for sale. Not just antiques, but aprons and purses and used books and gourds and jewelry. I could go on and on. And of course, scooters. I'm not sure any of the scooters were for sale, but they were displayed all around. The owner of the store, Beverly Bentley-Ingram, said she and her brother were brainstorming a name for her business and when he suggested The Red Scooter, she knew that was it. One of the scooters is actually her red scooter that she had as a child. Beverly is the pretty lady in the black with a scarf around her neck. They also do an apron contest in May for Mother's Day. It sounded like the ladies there were always ready to do something fun.
~~And the nicest thing they thought was fun was reading my book, The Believer. They had lots of questions about the Shakers and comments about the characters in my book. It's always a fun thing for me as a writer to hear readers talking about my characters as though they are people they know. As though they could think about them continuing on living their fictional lives after the last page was read and the book was closed. That's a good thing. I've felt that about other writers' characters. I've felt that about my own characters. Sometimes those characters keep living on in my head trying to push in front of the characters I'm trying to get to know for my new story. It's like they're jumping up and down shouting "What about me? You're not going to just forget about me now, are you?" You know with all those past characters jumping around up there in my head, it's no wonder I forget things now and again. You know like how to turn the delay timer on the oven. By the way, I did actually get those dishes scrubbed clean and ready to char something new in them. =o)
~~It's not long now until The Seeker will be out. Actually that happens at the same time my work in progress is supposed to be finished. Uh-0h. I'd better get to work. Hope all of you have something fun planned for your week.