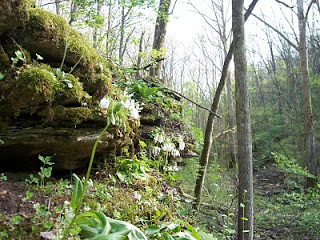 ~~Spring has officially sprung. It's one of my four favorite seasons. That's narrowing it down, isn't it? Of course by the end of winter, spring is more than welcome and can definitely be a favorite time. The snow and cold of winter are all right for a short visit but this year winter out stayed its welcome. So spring was much anticipated by most of the folks I know. Some of them are designing their gardens. Some are painting and sprucing up with spring cleaning. Me, I'm watching basketball and planning to go wildflower hunting.
~~I grew up listening to Caywood Ledford doing the play by play on UK basketball and have been a fan ever since. Even before I was a teenager, I can remember sitting on the stairs next to the chimney that radiated a bit of heat with my ear up against my tiny transistor radio while everybody else in the family was watching t.v. Not me. I was seeing those ballplayers running up and down the court and cheering them on. Caywood's gone now and I have to listen to the national announcers on t.v. When we used to get our t.v. signal with the antenna, I'd turn the sound down on the t.v. and listen to the radio. I wish I could still do that, but now with the satellite the timing is too far off. It's just no fun hearing on the radio that the shot didn't go in before the ball leaves the player's hand and you're still trying to hope the ball through the net.
~~Some of you out there are probably thinking it's weird to get so caught up in March madness while some of the rest of you are no doubt cheering on your own favorite teams. But one thing sure basketfall fans always have something to talk about in March even if they're strangers.
~~My other springtime passion is hunting wildflowers in the woods on my farm. There is something special about those delicate blooms poking up through the layer of leaves on the forest floor or clinging to the rocks on the hillsides. It's like hope in bloom. Proof that life is good and joy can be found in the gifts of nature. I like taking pictures of the flowers and I'm glad for my digital camera now that means I can snap to my heart's content without having to print them all to see which ones are best. So it's almost time to lace up my shoes and go wildflower hunting.
~~Hope you are welcoming spring with joy and hope blooming in your hearts.