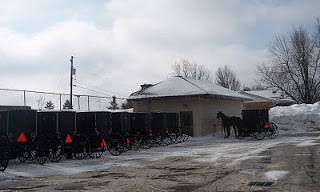 ~~Here's a picture I took on my day up in Amish country. The hitching areas were full with no room to spare because the piles of snow had covered up some of the "buggy parking" area. There's just something about seeing people riding around in buggies that makes a person think about a more peaceful lifestyle even if that might not be true. I don't know much about the Amish lifestyle. My research has been on the Shakers who embraced the simple life but they also were ready to invent any kind of labor saving device to make their work more efficient. So if there were still big active Shaker communities today, you would probably see them plowing with tractors instead of horses. The Shakers believed working with their hands was a way of worship, but they also believed that if they could work faster then they could do even more work and produce more for their community.
~~I've been doing extra research on the Shakers to try to shake loose some new ideas for my work in progress. With every book I read, I discover new things and sometimes contradictory things to what I have read in previous books. Makes me glad I'm writing fiction. Even though I want to be historically accurate and do my best to present the flavor and atmosphere of the times I'm writing about, my characters are fictional and not out of a history book. It's hard to get everything exactly as it was. And with the Shakers, they – like most other religious groups – changed over the years. By the late nineteenth century many things that were taboo earlier were accepted. Such as pet cats and dogs. You see late century photos of Shaker men and women standing side by side, even with a hand on an arm or shoulder of the opposite sex. They still used the separate stairways and doors, but the rules had surely softened from the Ministry's earlier worries regarding even incidental contact between the brothers and sisters which was the reason for the men's and women's separate stairways and doors. Even some of their beliefs changed over the years in regard to their founder and leader, Mother Ann. But I'm not writing about modern Shakers so I have to bury myself in those history books and try to think how it might have been then. That's what all writers of historical fiction are trying to do. The readers have to decide how successful we are with our stories.
~~Last on this Wednesday, but certainly not least, I pulled a winner out of the hat for my book giveaway of two of my books, winner's choice, and Laura Frantz's The Frontiersman's Daughter, a book about the early settlers in Kentucky. Drum roll please. The winner is Stephanie from Tennessee. So, congratulations, Stephanie. I'll be in touch.
~~Hope all of you see some of the spring type weather that's being forecast for us this weekend. Sunshine more than welcome.