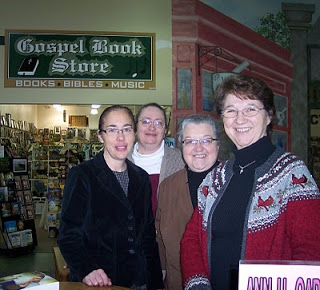 Here I am with some new friends at the Gospel Book Store in Berlin, Ohio. The owners, Eli and Vesta Hochstetler, have a beautiful store there in the heart of Amish country. Vesta is beside me along with two of the store's employees. Leah, on the left, was very patient and helpful each time I called the store to check out arrangements and the weather.
~~Ah. the weather!! The sun was shining when we left down here on Friday. I suppose I thought I could just pack it up and take it along. Our plan was to get an early start and have time to do sightseeing Friday afternoon. As it turned out the only sightseeing we got to do was snow blowing toward the windshield of our car. We didn't get off early the way we hoped due to some car problems. Then we hit Columbus at rush hour and winter started reminding me it was still in full force no matter what I tried to pack in my suitcase. The winter weather got more forceful the farther up the road we went. We started seeing cars in the medians and on the sides of the road where the drivers had obviously hit slick spots and ended up stuck in the snow and mud. The rest of us just kept zooming along hoping we were following the salt trucks. Perhaps zoom isn't the best word. Slogging along might fit better. And then we got off the interstate and the snow got a little thicker as we headed north on unfamiliar roads in the dark. At one time we were on a scenic highway and kept saying that we bet there was a beautiful view along the curves and ridges we were following. Trust me on this, after dark is not the best time to drive a scenic highway. But our guardian angel must have been flying faithfully along with us in spite of snow-encrusted wings and we made it safely. Even got to the motel before the office closed down. With minutes to spare!! Two or three at least.
~~The next morning I got to meet the nice owners and staff of the Gospel Book Store. There was a mix-up on time so I was there before they opened – an hour early. I'll have to tell my church buddies about that. They think I'm always late. My husband didn't mind being early because that gave us time to go downtown and enjoy a delicious breakfast at Boyd and Wurthman's once we found a parking spot amid the snow piles. Well fed and back at the bookstore, I enjoyed watching all the buggy drivers' parking their horses as they came to do their Saturday morning shopping and town business. I've never been in a community with a heavy population of Amish and Mennonite and so it was interesting to watch the families coming into the big building that held the bookstore, a bank, grocery, hardware store, medical center, drug store and more. A one stop shopping center. I loved seeing the babies in arms and the youngsters in Amish dress trailing after their mamas and daddies.
~~I also had the pleasure of talking to some of the people. There were three local authors there with great books as well. Paul Stutzman had a book, Hiking Through, about hiking the Appalachian Trail start to finish without a break. An Amish writer, Daniel Miller had written a collection of short pieces that let readers get fun glimpses into his family life and that of his friends and neighbors. He and his wife, Mae were kind enough to share some of their way of life with me. Daniel is an enthusiastic writer but has to find time to work between his farming chores and family obligations. I could identify with him there. He said Mae sometimes called herself a "writing widow." She smiled when he told me that story so I think they're working that out with no real problems. Besides her many family caring tasks, Mae said she did catering for weddings and gatherings.
~~It would have been great to have had more time to talk and get to know the people in the area, not to mention that sightseeing I'd hoped to do, but Darrell had to get back to Northern Kentucky to add his low notes to the Patriot Quartet's sound on Saturday night. So we had to pack up and get out of Dodge – er, Berlin – as quick as we could. A totally bad plan on our part, but that's the way trips go sometimes. We even had to speed past the longest covered bridge in Ohio without me even getting to take a picture. Not a good way to have to travel through such beautiful country. But Darrell made it back to California, Kentucky for his singing appointment and so our poor little traveling guardian angel got to settle down and rest for a few hours. The most amazing thing was that we passed by an Ohio state trooper hid in behind a snow bank and he didn't turn on his flashing lights. The guy must have been dozing. For sure, Darrell used up a bit of luck on that one since he wasn't exactly going 55 at the time.
~~Next time I travel to Amish country I'm going go in the spring or summer or autumn. And daytime for traveling. Hope all of you had a great weekend too.