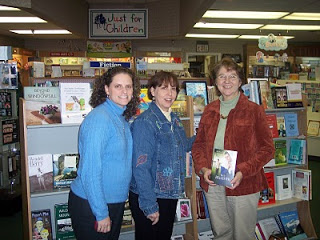 ~~Here I am in the beautiful Brookhaven Christian Book Store last week after a visit to the local book club. Sharon, in the middle, and her daughter, Kristi, have a great store in the London, KY area. I'm there on the right holding my book.
~~Sharon enjoys keeping handcrafted items from local artists for sale in her store. She has hand carved pieces, paintings, photography, pottery and jewelry to mention a few. But best of all she keeps those shelves of Kentucky books front and center in her store. I feel fortunate to have earned a little shelf space in her store beside other Kentucky authors.
~~Of course my books, The Believer and The Outsider are not only written by a KY author – that's right, me – they have a lot of Kentucky history as background for the story and the setting is a Shaker village based on research I've done on the Pleasant Hill Shaker village near Harrodsburg. A beautiful place if you have a chance to go by and take the tour and enjoy their restaurant. Maybe next week I'll use a Shaker picture here. There are pictures of some of the buildings on my website in the gallery.
~~Anyway it's great to have Kentucky bookstores featuring Kentucky writers. And it's extra fun when book clubs in the area read my book and let me come enjoy their meeting with them when they're not too far away to drive. The London Club, The Tea Leaves Club, knows how to have a fun meeting. They meet for lunch and then discuss the book they read that month and share what they liked or perhaps didn't like about the story. This club reads only inspirational fiction and they had some great books lined up for the next few months. Of course, with me there they got to hear the story of why I wrote about the Shakers and they were curious about how I wrote and when I started writing. General writer information, but something that seems to fascinate most readers. I know I always get a kick out of reading or hearing a writer's "how I got started" or "why I write" stories. The book club ladies were a fun group and I enjoyed sharing a couple of hours with them. What could be better than a great lunch and talking about books you've read?
~~I'm headed to Louisville for another book club on Monday night at the Southeast Christian Church. That is if Old Man Winter will quit blowing snow down on us here in Kentucky. We've had snow on the ground practically all month and some of us are ready for it to melt. The grandkids were here today and we tried to build a snowman. I told my granddaughter all we ended up building was a very small mountain, but she stuck sticks in the sides of it and declared it a snowman anyway.
~~So if more snow doesn't interfere I'll be telling a whole new bunch of people all about how I ended up a writer or maybe in my case how I started out a writer since I've been writing since I was ten. That's sure to be fun. Fresh ears for my old stories. 😉 This book club has a few more members than the London one, but that just means more people who love reading and books. I can't wait to meet them.
~~If you are in a book club I'd love to meet you and your reading friends too. I've done several book clubs by phone. Not as much fun as sitting down to lunch or tea with them, but still fun to hear their questions about my stories. And if you're in the London, KY area and want a beautiful place to shop for some unique items and maybe a Kentucky book, go by the Brookhaven Christian Book Store and enjoy.
~~Thanks for reading.