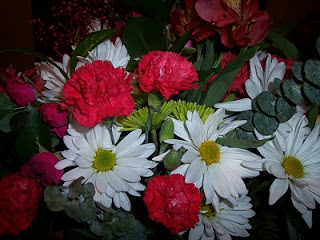 Valentine's Day has always been one of my favorite holidays. A day for love. I think it moved up on my favorite list when my children were in elementary school and I was room mother for their school holiday parties. I liked it that all the kids got the same number of Valentines so they could all feel like the kid everybody liked. For years I kept a shoebox decorated with red paper hearts my oldest son made for his Valentines one year and each year he added more to it. It's probably still stuck back in a closet somewhere because I could never throw so much innocent love in the trash.
~~But I suppose the real Valentines are between sweeties. I remember when I was a teenager and my sister's boyfriend would always give her one of those fancy ribbon and silk covered heart shaped boxes of chocolates. Half the candy in those boxes wasn't fit to eat, but my young heart thought those boxes were a beautiful, extravagant expression of love. My sweetie didn't have the money for those kind of Valentines then, but I knew I wanted to stick with him anyway. And now we've been together a lot of years and he still brings me flowers. Sometimes even when it's not Valentine's Day.
~~Anyway I got to thinking about romantic gifts and which I remembered best. While I remember Valentine's Day roses and flowers and once one of those big chocolate bars, I suppose my favorite all time gift was a cockerspaniel pup. Those of you who read this blog on a regular basis know I'm a dog lover. We'd always had dogs, but none that we'd ever had to buy. We didn't have money to buy dogs. We just got the giveaway kind and they were always great dogs. But Darrell knew I loved cockerspaniels. Not a breed you're likely to find puppies for free, so to surprise me one year on my birthday he sold his class ring and bought this little blonde cockerspaniel puppy. Jody was the cutest little puppy and had a way of making me feel loved. Any time I came home even from the shortest trip he danced and whined and yelped his happiness. As a tiny pup, he'd lay on my foot while I was standing at the counter cooking supper. He was a good dog and without a doubt the most romantic gift I ever received even if it wasn't on Valentine's Day and even if he didn't come in a ribbon covered box.
~~What about you? Have you ever gotten a romantic gift that warms your heart to even think about it now? I hope so. I hope you've had so many that you have trouble deciding on your favorite.
~~Reading friends are one of my nicest gifts now. Thank you for reading this and for reading my books. Remember to send me a message from my website or leave a comment here to get your name in the drawing for the book giveaway the end of February.
~~Happy Valentine's Day!! May love follow you around like my little cockerspaniel pup used to follow me, always ready to land in your lap every time you give it half a chance.