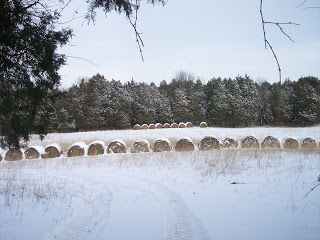 ~The weather people talked about snow for days and it finally showed up down here on the farm. We got about four inches – a light dusting compared to what they got west and south of us. But plenty for me. I like a little snow every winter, but I'm always ready to see it go, too. This morning it was so cold when I went out that the snow squeaked and crunched underfoot and blew up little mini-puffs of snow in my wake. A good kind of walking snow. Tonight would be a good night to take a snow walk since the moon is almost full and is reflecting off the snow making a glistening light almost as bright as day out there. But it is very chilly.
~I took my camera out on Saturday afternoon and took this picture of the hay bales and cedars. It made me think of the title of the book Snow Falling on Cedars. That's a very evocative title for a book, but one that I doubt I would have ever had the nerve to suggest to a publisher. But then again, maybe I would. I did The Scent of Lilacs. I did Wish Come True and Bridge to Courage for a couple of my young adult books. Not exactly the same feel as the snow falling title, but I think interesting titles. And all fit the story. I read Snow Falling on Cedars, but it's been a while and I can't remember if the title was central to the story or not.
~I enjoy thinking about titles and wondering where the authors might have come up with them. With my Shaker books, the publishers suggested I use a The Something theme and we came up with The Outsider for the first one. The Believer fits the second story perfectly and The Seeker is right for Charlotte and Adam's story. I have absolutely no idea what The Something the next book is going to be. But then I often write the book before I come up with a title. I guess I keep hoping my subconscious will nudge a great title up into my conscious mind and I'll go bingo and know it's the perfect title. Of course, right now I'm just hoping my subconscious will push a good story up into my conscious mind. I like my new characters, but they seem to be very secretive about their stories. I need them to start whispering some of those secrets into my ear. Or they can just run them straight through my fingers if they want to.
~I'm about rested up from my grandbaby sitting, but my desk is still looking like a disaster area. Plus I can't seem to locate the book I was reading before I headed to WV. No, it's not under all the paperwork on my desk. I've already checked that out. It takes talent to lose a book in your own house, but that seems to be what I've done. I gave up on finding it. Now I'm just waiting to discover it in whatever interesting spot I last laid it down. Either that or the reading gremlins carried it away. Do you have gremlins at your house? You know those mysterious beings that run off with paperclips and scissors and all your inkpens when you most need to write something down.
~Some of you have already entered my February book drawing for two of my books and The Frontiersman's Daughter by Laura Frantz, but for those of you who haven't, you still have time. I won't be doing the drawing until the end of the month. If you want to throw your name in the hat, just send me a message from my website or leave a comment here. I appreciate each and every one of you. Thanks for being reading friends.