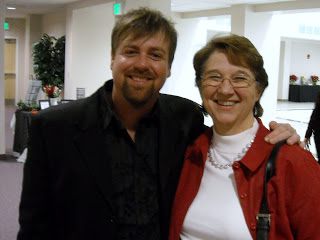 ~~ I took this picture with Steve Ladd at the New Year's Eve Gospel Concert at Sand Spring Church. My husband's group, the Patriot Quartet, was singing that night along with several other groups and Steve. Until recently Steve was the tenor for the well known gospel group, Gold City. He gave that position up to start a solo ministry in order to be with his wife and two children more.
~~ The life of a gospel singer in a traveling group can be very difficult. The groups stay on the road much of the year and it makes family time difficult. That may be why so many of the gospel groups are family groups. Darrell didn't luck out about that when he married me. I can hum a good tune in the kitchen, but it's unlikely anybody will want to hum along with me. But Darrell has had the itch to sing gospel music all his life and has been singing with various groups for over 35 years. He and the other guys in the Patriot Quartet now are weekend warriors who travel all over for Saturday and Sunday concerts. You can check them out on their website and even listen to some of their songs. http://www.patriotquartet.com/
~~ But back to Steve Ladd and what I was planning to talk about tonight. Steve said that when he was eight years old his parents took him to hear Gold City in concert and he came home saying that someday he would sing tenor for that group. That's quite a goal for a kid of eight to focus in on. He was already singing with his family in churches. His dad was a traveling evangelist. So he knew about singing. Then he said when he was a young teen, people kept telling him that his voice was going to change, become deeper. So every night, he prayed that the Lord would let his voice stay high. Else how would he be able to do as he planned and sing tenor for Gold City. The Lord certainly honored his prayer and his dreams. He can sing some high notes and he did sing them with Gold City just as he began planning to do as a kid. You can tell by looking at him what a nice guy he is, so if you ever get a chance to go hear him, take it. You'll be blessed.
~~ His story made me think about how I had some of the same feelings when I was a kid. Not to sing for Gold City. That's for sure. Or anybody else. But to write. I knew when I was ten that I wanted to write. And not just write. I wanted to write stories that people would read. You can't imagine what a big dream that was for that little country girl who didn't know anything about anything and especially nothing about how to become a "Writer" with a captial W. Still, I never thought about it being something I couldn't do. I just took up my pen and began writing. Later I sought whatever avenues I could to figure out how to write better. That wasn't an easy thing for me as a young wife and mother with limited resources. Translation – no money for dreams. Yet I never put down my pen. At least not completely. I chiseled out time for my writing, sneaking minutes and hours when I could between my many other chores. I kept count of those hours and minutes in a writing journal. That helped keep me focused and accountable for my time.
~~ For years – even after I was published – I was hesitant to say out loud that I was a writer. It sounded presumptuous. Like I was claiming something I had no right to claim. Or maybe it simply meant so much to me to reach that goal that I didn't want to claim it too soon. Even now with nineteen books published and several more in the works to be published, I'm shy about telling people I'm a writer. And yet that's still my goal, my dream. To write books people will want to read. But in order to read your book, people have to know about your book. Nowadays, writers are supposed to do everything they can to collect reading friends. So you have to tell people about your books. I guess that's why I have this poem by Sir William Gilbert written on my desk calendar.
If you wish in this world to advance
Your merits you're bound to enhance.
You must stir it and stump it
And blow your own trumpet
Or trust me, you haven't a chance.
~~ I still don't blow a lot of trumpets. But I do talk about my writing and my books every time someone asks me to. And I talk to you. Thanks for listening. And reading.