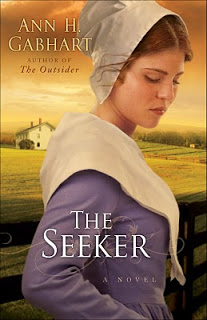 ~~After Christmas and New Year's, it's time to get back into a working routine. Not that I wasn't working during the holidays. I was working double duty – trying to get things done for Christmas and working on the galleys for my book, The Seeker, due out this summer.
~~I like editing and trying to make my story the best it can be. I want to catch all the awkward phrasing or places that are fuzzy and might not make sense to the reader. I appreciate editors who point things out that I sometimes miss. For instance in one of my Hollyhill books, I had a character reading a mystery writer whose books weren't published until after the time of my story. I should have checked that out, but I didn't. I'm glad the editor had a sharp eye.
~~Of course that's not all an editor notices. There are always places that can be written better. New ways to describe something or better words to bring a scene to life. The editor points out some of these, but I always see more and am glad for the chance to make my writing better. My goal as an author is to somehow write so smoothly and crisply that the words will disappear and the reader will be swept up into the story and live it along with the characters without thinking about the words he or she is reading. That's the way I like the books I read to be. I want to be totally absorbed in the story.
~~And so The Seeker is off back to the publishing company to go through the next phase of making its way to the stores' shelves. It's been available on Amazon and other internet sites for pre-sale for a couple of months now. I hope readers will like the characters, one a Southern belle and the other an illustrator for newspapers during the Civil War. Some interesting history with an extra generous helping of romance – even if part of the story takes place in my Shaker village, Harmony Hill, where such romance is strictly forbidden.
~~I also had to do a titling page for my book, tentatively titled Angel Sister, that is scheduled to release early in 2011. I'm excited about the story, but those titling pages are difficult for me. They always ask for a couple of snappy sentences to describe the book. I struggle trying to condense a novel down into a couple of sentences. Snappy sentences. I finally came up with two sentences. Not sure they snapped all that much. Here they are to see what you think.
~~"Nadine and Victor Merritt's love has survived their fathers' opposition and a World War, but the Great Depression is threatening to break their hearts. Their daughter, Kate, is determined to save her family and protect the little girl she found abandoned on the church steps even if it means defying her grandfathers, befriending the village odd woman, and being in the middle of a raging forest fire."
~~My editor would probably tell me that last sentence runs on a little too long, but I had so much to say. I always have so much to say. Guess if you've been reading these blog posts, you already knew that.
~~I plan to send out a newsletter soon, so if you'd like to sign up to be sure you get one, go to my website and click on the sign up for the newsletter link or send me a message. I'm trying to come up with a new giveaway that will make some of you smile even if the weather does turn frightful wherever you live.
~~I've been dwelling on happiness this last week, so here's a happiness quote to end tonight.
"Those who can laugh without cause have either found the true meaning of happiness or have gone stark raving mad." Norm Papernick
~~Well, at least we're laughing and the Bible says laughter worketh good like a medicine.