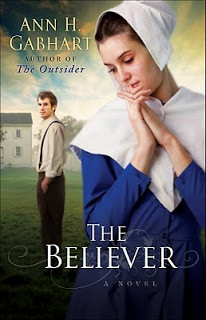 People are always doing lists. I do lists too, but mostly about things I don't want to forget. You know, chores-to-do lists. Grocery lists. Christmas card lists. Gift ideas lists. Birthday lists. One late night comedian has made his lists of ten a big part of his comedy. So I thought I'd jump in on the idea. The ten best things about Christmas. Feel free to add your best things.
10. People do book giveaways.
What a lead in! Over on
http://continuousdelights.blogspot.com/
the blogger, Carman is doing a drawing to give away my book,
The Believer.
All you have to do is leave a comment on the interview she did with me. To see the interview go to Carman's blog and click on
The Believer's
book cover. That will link to my interview. One thing she asked me is what could I tell readers that they might not know about me already. Well, I'm sure there are lots of things, but if you want to know which things I picked, you can go check out the interview. Then leave a comment and be in on the chance to win a book. Something free at Christmas time is always good.
9. Christmas lights decorating everybody's houses. Everybody's but mine. Oh, you might be able to see the lights of my Christmas tree through the window, but I've never strung lights up on the eaves. I know I'd be one of those people who didn't get them taken down until June or something.
8. Shopping. I can't believe I said that. I hate to shop – except in bookstores. Christmas gives me a great excuse to spend a few hours browsing shelves in bookstores to try to find books for my family that they might not have read yet. I ended up bringing home a sack full of books for myself. If you can't buy a few gifts for yourself to reward your shopping efforts, then you might as well stay home.
7. Cookies and punch and all that sweet stuff. We made crackerjacks at my mom's today. She traditionally made crackerjacks and six or seven types of candy at Christmas. She can't do the candy anymore, but I have plenty of good memories of satisfying my sweet tooth with her delicious candy. And we've had punch at Christmas ever since I can remember. OJ and pineapple juice and gingerale and orange sherbert. That just tastes like Christmas to me.
6. Gifts. I like giving gifts to people I love and it's sort of fun getting gifts from those people too. The gifts don't have to be expensive to be good. The best gifts are those that show the person really thought about what you might like.
5. The Christmas Spirit. That's the feeling that has us pitching in our change or a few dollars every time we hear the Salvation Army kettle bell. That's the feeling that keeps us smiling while we're standing in long lines at the stores and exchanging holiday pleasantries with the strangers behind us. That's the feeling that keeps us remembering the true meaning of Christmas.
4. Candlelight Services at churches. We have a great candlelight service at Goshen. Our church is way out in the country and when we turn out the lights, it gets dark. And then the pastor will light the one candle that represents Jesus bringing light into the world. We each then light our candles from the candle representing Jesus to take His light out into the world.
3. Gathering with family and friends. Christmas is a great reason for families to visit. We feast on great food, laugh at old stories and tighten up those family ties that bind us together.
2. The excited sparkle in children's eyes. The anticipation of waiting for Christmas morn as kids put out cookies for Santa and reindeer food for Rudolph, Donder and Blitzen and the rest. It is so much fun watching the little ones have fun. There were some excited kids here yesterday as they tore into their presents. Sometimes I think they enjoy the opening of the packages more than what's in them.
1. Hearing the Christmas story read out of the Bible. Those Bible verses that have been read countless times over the years and that I have heard almost every year of my life still sound fresh and joyful every time I hear them read. "Glory to God in the highest, and on earth peace, goodwill toward men!"
~~I'm sure I overlooked some things, but these are ten of the things I love about Christmas. How about you? I hope you are rejoicing in all the favorite things you love about Christmas.