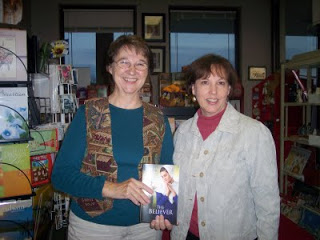 –Did you ever think about how many exotic places we have in Kentucky? Paris, KY – London, KY – Versailles, KY. Although I have to admit the way we say Versailles with our Kentucky country pronunciation doesn't make you think much of France. Then there's California, KY – Washington, KY – Texas, KY – Moscow, KY – Newfoundland, KY.
–I like the odd names Kentucky town founders came up with. How would you like to live in Honeybee or Black Snake or Black Gnat or maybe Quicksand? That last name or maybe all of those names might make you think twice about building a house there. If you want a town where saying your address might lift your spirits you could live in Joy or Happy or Hope, Kentucky. There's not a Love, but there is a Lovely. I like Jeremiah. I'm going to have to let one of my characters in a book someday live in or be from Jeremiah. I did that in my Hollyhill books. Picked a town name I liked – Grundy – and named a neighboring town Grundy, Kentucky. Actually I think Grundy is in West Virginia or maybe Virginia, but it was too good a name to let get away.
–It was London, Kentucky, not London, England (what a surprise, right?) where I did a booksigning at the beautiful Brookhaven Christian Bookstore in the London Shopping Center a week ago. The picture above is of me and Sharon Kidd, one of the store's owners. Sharon and her partner, Mary, have a whole section of great Kentucky books or books by Kentucky authors on their shelves. They also have a lot of beautiful items made by Kentucky craftsmen and women. It's always a pleasure to be at the Brookhaven Christian Bookstore. Actually I enjoy shopping at Christian bookstores anywhere. There's just a feeling of peace and welcome when you walk in the door of those stores. And if you want to make sure you remember the reason for the season, there's no nicer place to shop. I hope you all support your local Christian bookstores. And buy some books for those on your gift list.
–I love buying books. It's a longstanding tradition for me to give a book to all my kids and now since the grandkids and spouses are included in that tradition, I get to shop for lots of books. It's nice if I'm able to pick one they might like, but even when I don't, it doesn't bother me if they pass them on to another reader. Somebody's book is still out there getting read. Of course I like it when people pick my book as a gift for a friend. What would be not to like about that! But I rarely give my own book as a Christmas gift even though I've got plenty in the basement. By the time Christmas rolls around, I've usually already given everybody on my gift list a copy of my latest book.
–The winner of my Thanksgiving book giveaway may decide to use the books she won as Christmas gifts. I drew for the winner a few minutes ago. Drum roll please. The winner is Jennifer in Canada. Jennifer has become a good reading friend and I'm looking forward to sending her the books she won as soon as she lets me know which of my books she wants.
–I hope all of you had a great Thanksgiving and that you didn't eat too much the way we did around here. Some person, who shall remain unnamed :o), cooked way too much food. And now that person has to get rid of all the leftovers. I'll bet my puppies will like noodles. I've still got three little puppies to give away if anybody wants one.
–I got my Christmas tree decorated with help from my daughter and son-in-law. Next thing on the agenda is Christmas cards and shopping. But at least it's beginning to look like Christmas around here. I bet it is at your house too. Christmas trees are popping up all over Facebook. Hope you are embracing the season of joy.