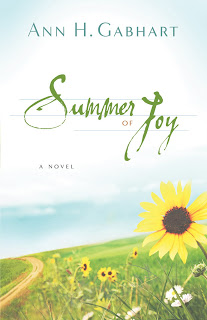 This is one of my books you might win if you want your name to be in the hat for my Thanksgiving giveaway. Just leave a comment with a way to get in touch with you in case you win or send me an e-mail from my website,
http://www.annhgabhart.com/
. As those of you who keep up with this blog know, I'm giving away an autographed copy of one of my books,
The Scent of Lilacs, Orchard of Hope, Summer of Joy, Angels at the Crossroads, The Outsider
or
The Believer
along with a hardback copy of
Less Than Dead
by Tim Downs. It's my way of being thankful for you, my reading friends.
We had our Thanksgiving dinner at church tonight. This morning we had a different kind of service where at the end of the sermon Br. Fred encouraged us to speak up and talk about the things for which we were especially thankful. Well, of course I was one of the ones not too shy to talk about my reasons for thanksgiving. I was like one of my church sisters who wanted to list her blessings. "How much time do I have?" she asked.
She was right. If we named all our reasons to be thankful, we'd still be there talking. I am so blessed. As many of you surely are as well. I live in a beautiful country. I have a wonderful family with a fine husband, loving children and the best in the world grandbabies. Every grandma is entitled to think the same about her grandchildren. And should. I have a great mom and sisters and sisters-in-law and brothers-in-law who I also count as friends. I have a good church family and a preacher who has helped me store Bible truths and stories in my heart. On top of all that I've been able to do what I have wanted to do since I was ten and that is to make up stories and write them down. While I would do that, and have done that, whether anybody read them or not, it's wonderful that the Lord has blessed me with some reading friends who do want to read those stories.
And that's just a quick telling of some main blessings. If you get down into the everyday varieties of blessings, I can keep on going. Dogs and birds. Computers and hot tea. Books to read. Glasses that help me keep seeing the words in those books. Walking paths and trees. Smiles and little kids' giggles. The good feel of sunshine on my face. Blackberries on the vine. And on and on. Little things and big things. My church family was glad I edited my list and kept it short.
My church friend had even more dramatic reasons for thankfulness. She's had a hard year, faced cancer treatments several times and wasn't sure a few times whether the treatments would work. But she never turned away from her faith in the Lord to bring her through. We're glad she's walking her faith journey in our little family of God.
I hope you have many reasons for thanksgiving this week as you gather with your friends and family to count your blessings and enjoy a bountiful meal.