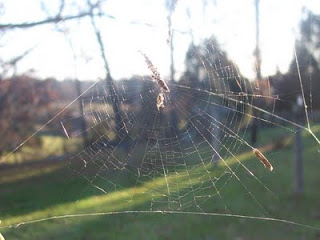 –I've been thinking about writing about how a story can be an intricate web like a spider web for a few weeks now, but I wanted a picture of a spider web to go with it. I went out to the free photo files on the internet. There were some great spider web shots on those sites and it said they were open to use, but I lacked the secret formula for getting them to download, upload, or whatever load.
–So on to plan B. I'd just go out in the wild and take my own picture of a spider web. I've got plenty of spiders out here on the farm. Plenty of them. But did you know it's hard to find spiders spinning in late October?
–Then one day while I was walking in the field, I almost slammed my face right into a spider web. Didn't have my camera of course, so hurried to the house to get it. Got back to the field and discovered that spider wasn't building a web; he was dismantling it. Had maybe two or three strands of web still there with none of the interconnecting strands I was after. I still took a picture. I mean I had walked all that way to get the camera, but there was nothing but a blob in the picture that a person might be able to tell was a spider sticking out his tongue at me or more likely they'd think it was nothing but a smudge on my camera lens. So I was ready to give up on this blog picture until next spring when lo and behold there was a spider web right outside my office window. Not a great one, but a spider web nevertheless.
–So what's all the fuss about a spider web picture? None. You would have been able to imagine the spider web with all those ladderlike connecting bits of sticky web. I just got stubborn about the picture. My point is that creating a new story is sort of like the spider spinning that web.
–A writer starts out with the first bit of web or story idea and swings on it through the air in an attempt to connect to something else. Something solid that she can anchor her story on. Maybe a character coming to life in her mind or a truth she wants her characters to discover or maybe just a fun idea of what happens next. And then the writer starts inching down that first initial web strand to figure out the next direction to spin and then the next and the next until there's the story complete with its dozens of connections – events and happenings that lead to other events and happenings in your story. And you hope your web is strong. So strong it can capture readers and wrap them so up in your story that they'll sit right down and read it through without even trying to break free of your story web.
–Now you might notice that the spider web in my picture is a little ragged looking with some gaps here and there, but in spite of that it's holding together. That's what I always want my story to do too – hold together. It may not be perfect. I'm not a perfect writer. But I do like to tell stories and I'm glad to be spinning a new yarn now that I hope all of you will want to read someday.
–If you live close to London, Kentucky, I'll be at Brookhaven Christian Books to sign my books this Saturday from 3 to 5 p.m. Autographed books make a great one of a kind Christmas gift.
–One last note – I'll be drawing for my Thanksgiving book giveaway next weekend to show how thankful I am for you readers. To enter just send me an e-mail from my website or comment here. I'm giving away the winner's choice of one of my inspirational novels, The Scent of Lilacs, Orchard of Hope, Summer of Joy, The Outsider, or The Believer or my nonfiction book, Angels at the Crossroads plus a hardback copy of Less Than Dead by Tim Downs. If you want to get your name in the pot, you've still got time.
–Now back to web spinning.