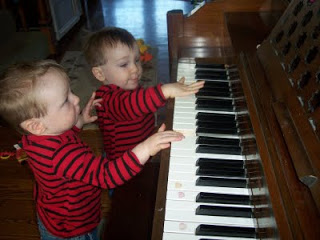 We had a great weekend weatherwise here in Kentucky. And in West Virginia where we were keeping the grandkids while Mom and Dad took some R & R time. Looks like the twins are auditioning to join their grandpa's gospel group. A little duet piano playing would certainly add to the fun, I'm sure.
This is our second weekend in a row to have sunshine and warm temperatures. It was picnic weather in November. Some people were out putting up Christmas decorations. I don't know how they did it in seventy degree weather, but then I'm not much of a decorator. I don't decorate my yard in any degree weather for any holiday.
Guess my yard's decorated right now with the neighbor puppies. I actually gave one of them away. Yaay! To be a little three-year-old girl's puppy. The little dog will feel right at home after the way the grandkids carried her around and loved on her. Anyway all this great sunshine makes me think we must be getting the October weather we so sorely missed out on last month this month. And I'm glad. I love the warm, sunshiny days of fall when you just want to sit down and let the sun soak into your bones to tide you over until spring.
The twin boys along with their big sisters kept both Darrell and me hopping to keep them happy and out of trouble this weekend. The boys have inherited a good dose of stubborn from their grandma and once they thought about doing something, they were bound and determined to see it through, especially if it was to open doors or cabinets or head for the end of the driveway. All the kids were fun to be with and "far away grandma" as the three year old calls me had a good time chasing after them all.
Tonight I went with the Patriot Quartet to their concert. I was sitting out in the entranceway of the church before the service started when a couple came in and I caught this scrap of the conversation. "And then she kind of just quit coming." I don't know who they were talking about or what they were saying she kind of quit coming to. But the phrase rang a bell. "Just kind of quit." I figured they were talking about a person who had fallen away from their church fellowship, but that wouldn't have to be the case. She could have just kind of quit going to the gym to exercise. She might have just kind of quit going to visit her family. Who knows?
Hope there's nothing you've "kind of quit" doing that you enjoy doing in this November October. I've "kind of got started" on my new book. Kind of. So that's better than kind of quitting, right?