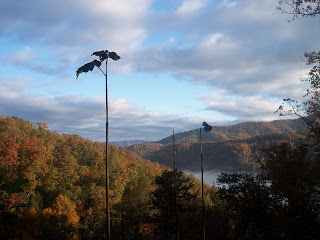 –This is the view from the deck around the cabin we stayed in last week with Darrell's siblings and spouses. There's just something about looking out at beautiful mountains or any beautiful scenery that renews the spirits. That's one of the reasons I like to walk every day. So I can be out there and see what's going on in nature. And that's also why I like having windows around my desk. I like seeing the trees and knowing the weather and watching the deer sneak up to get a mouthful of rose bush. Although I have to say I wish they wouldn't eat my rose bushes. You'd think with all these dogs around here – mine and the neighbors – that one of those dogs could chase off a deer or two. I think they must be wimps. Or maybe they're too lazy to get up and bark. Or could be the dogs and deer are all big buddies.
–Anyway after we had fun in the mountains, we traveled back to Blackey, Kentucky where I enjoyed talking books with the ladies of the Blackey Library Book Club on Thursday night. I posted a picture of some of the book ladies on my Facebook Fan page. You can go check it out if you want. On the way we made a wrong turn onto Interstate 40. That's the road that's closed across the North Carolina border because of a rock slide. We thought our exit was before the road was blocked but we'd gotten mixed up and should have gotten on the road going the other direction. But it was worth it to get on that big four-lane highway that is usually buzzing with cars and trucks and see no other car in sight in either lane. It felt weird. Very weird.
–Then Saturday I was at the Fleming County Library Book Fair. I was fortunate enough to share a table with Paul Prather who has published a book of his newspaper columns. He's been sharing his life and thoughts with us in the Lexington Herald for some time and it was great getting to not only meet him but talk to him as well. I also got to talk to Jan Watson, another great writer friend. Both of them and about a hundred more authors will be at the Kentucky Book Fair in Frankfort this Saturday. I'll be taking part in a panel "Fiction Writers Unite!" with Jan Watson, Karen Robards, and Mary Taylor-Hall at 12:30 that day. That should be fun. If you come to the book fair, be sure to hunt me up to say hi.
–I did something different today. I got somebody to come out and take photos of me. Usually I'm the one behind the camera. I'm not as good in front of it. Jennifer Duvall (Portraits by Jenn Duvall) was kind enough and game enough to come out to the farm and ride with me in the old farm truck back in the field to one of my favorite nature places, Panther Rock. But she was wondering what she had gotten herself into when we pulled into the field and cows stampeded toward our truck. Darrell has been feeding the cows grain and so whenever they hear the truck they all come running to be first in line for the good stuff. They surrounded us and I had to very carefully ease the truck through the herd. Once we got through the milling cows, I stepped on the gas to try to stay ahead of the herd and make it through the gate without any cows making an escape. Jenn probably thought she was home free then since we were in the hayfield with the cows left behind, but my dogs, Oscar and Dub, didn't want to be left behind. They had to come along on the photo shoot. I had to keep throwing sticks for Oscar to fetch so that he wouldn't be sitting in front of me in every picture. What with all the animal interaction and the slippery leaf-covered muddy paths, Jenn may think twice before she agrees to photograph me – or anyone – on location again if it involves old farm trucks, cows and dogs that like to lick. Actually she was a real sport although she did keep saying that if stuff like this kept happening to her, she was going to start a blog of photo shooting adventures. So I thought I'd beat her to it.
–Hope you have some adventures that make you smile this week.