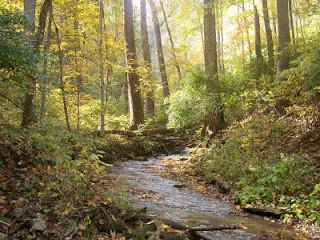 –Live in the sunshine – that's a phrase out of a song the Patriot Quartet sang last night at their homecoming that so caught my imagination I put it on my Facebook page and now I'm putting it here. What great advice! Live in the sunshine of hope and joy and leave behind the shadows of doubts and fear.
–Today was a great day to think about living in the sunshine. I love being out in the woods on a beautiful day in October. The picture is one I took when I went on my long walk down the creek last week. Today we went tree sightseeing in the car – my mom and my sister and me. We looped around through the countryside and came back up the road where Dad owned a lot of farmland when I was young. We remembered wheat in this field and tobacco in that field and strawberries in another. The strawberries, by far, were the best memory. But the countryside has changed a lot since my sister and I were kids riding the school bus around that road every day fall, winter and spring. We kept wondering if that was where so and so's house used to be and was this or that house there back then and where exactly on the cliffside was that spring that ran with such cool clear water to fill up our water jugs. Things we thought we'd never forget are foggy shadows on the edge of remembrance.
–So many years ago. And yet even then I knew I wanted to write stories down. I wanted to string words together and pile page upon page until the story was told. I could never have imagined how many books I might write. I might not even be able to imagine that now. I'm hoping several more in the years ahead.
–Writing isn't easy. You sometimes hope it will be or imagine it will be or want it to be, but many days the words have to be coaxed out of the black ooze of the mind where stories hide. Or tugged out laboriously one at a time. And yet no matter how difficult the task sometimes is, that's what I want to do. What I have always wanted to do. Write.
–I'm in the beginning stages of my new story now. I'm getting acquainted with my characters. Wondering where they went to school or church. What their parents and siblings were like. What work they did or do. And on and on. So much to learn about these new people I've just met and want to know. So it's good to take long walks with them and listen to what they have to tell me about themselves. October is a good month for that.
–These next few weeks are busy. We're going to be taking a few days to enjoy visiting with family in the mountains. Then I have several book events coming up. The Kentucky Book Fair is just a couple of weeks away on Saturday, November 7. That's always a fun day when so many writers and readers show up to celebrate reading. I enjoy talking to the reading friends I've made there over the years. I'll be doing a panel on "Fiction Writers Unite!" at 12:30 that day with Karen Robards, Jan Watson and Mary Ann Taylor-Hall with Jim Tomlinson moderating. That should be fun. It's always interesting to hear how other writers come up with their stories. So if you're in the area come on down to the Frankfort Civic Center and meet a hundred plus writers who would love to sign one of their books for you. An autographed book makes a unique and special Christmas present. I'm looking forward to doing some Christmas shopping myself and to meeting some writers in person that up until now I've only met via internet like Laura Frantz whose book about Kentucky, A Frontiersman's Daughter, has gotten great reviews and is sure to be a reader favorite at the fair.
–Hope you have an absolutely wonderful last week of October and live in the sunshine.