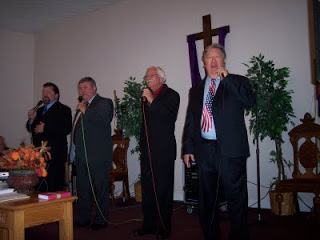 –Here's the Patriot Quartet singing at Goshen's Homecoming. That's our church and that's Darrell on the right with the patriotic tie. If you like Southern Gospel you would probably like their sound and their new song "An American Christian" that's getting some play on gospel stations around the country right now. They're going to have their Homecoming singing on Friday and Saturday night at Sand Spring Church. So if you're in the area, come on out and hear them. For more info or to hear how they sound, you can check out their website,
http://www.patriotquartet.com/
. They're planning to make a DVD. Guess they'll be in the movies – sort of.
–That's something I never thought I wanted to be. In the movies. I'm one of those people who try to hide behind a tree if somebody points a camera toward me. I'd much rather be the one pointing the camera at the other people and making them groan because I'm taking their pictures. Of course grandkids are a grandmother's favorite subject. Some of my grandkids beg to have their pictures taken and others of them are ready to hide behind that tree with me.
–My new dog, Oscar, doesn't hide. He's quite the ham. He actually seems to pose at times and wait for me to take the picture. The dogs and I went on a long walk today. It was a perfect October day here and sometimes you have to seize the opportunity when it presents itself. So I stole a couple of hours from my writing time and went out into the woods to enjoy. Actually it wasn't totally wasted writing/creating time. My characters are coming to life inside my head. I'm figuring out what they look like and what they think about and what they talk about and what they're doing and why. But I'm not going to know that all at once.
–But I don't have to know everything yet. I just have to know them well enough to start the journey. I'm reading a book about writing, bird by bird by Anne Lamott, and in it she quotes E.L. Doctorow as saying that "writing a novel is like driving a car at night. You can see only as far as your headlights, but you can make the whole trip that way." So I'm anxious to turn my headlights on and start driving. Yet at the same time, I'm timid about turning the key and pressing on the gas pedal. Will the story be there again? It has been so many times before, but how can I be sure it will be this time? I guess I can't be sure. I can only rely on the truth that the stories have come in the past and then click on those headlights and start the journey one more time.
–I posted some new photos on my Facebook page and also in my website gallery, if you're interested. The Facebook pictures are the grandkids and the website pictures are a mixture. And don't forget to send me an e-mail if you want to have a chance to win an autographed copy of one of my books and a hardback copy of Less Than Dead by Tim Downs. I'll be drawing for the winner around Thanksgiving.
–Till next time, remember – always laugh when you can…it's cheap medicine.