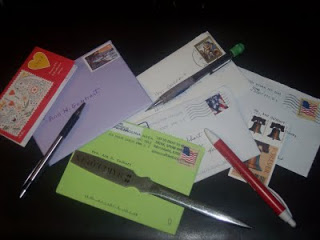 –There was a list in Reader's Digest this month of the 8 Things being Killed by the Internet. Polite disagreement – Memory – Daydreaming – Waiting a day for sports scores – Footnotes – Leaving your desk for lunch – Concentration – Letter writing.
–What do you think? Are these things being killed off by our fascination with the internet? Memory? I have to admit I thought my memory was just getting killed off by too many years or too many things to remember or perhaps lack of proper attention, but now I know. It's not me. It's the internet. What a relief! And isn't it all those talk shows on the radio that have decided we can't disagree politely? No ratings boost without controversy. Concentration? What's with that? I'd figure it out, but I have to check my Facebook page.
–But no way am I going to let anything kill off my daydreaming. Daydreaming is essential to a person's well being. Well, at least a writer's idea bank. Oh, the things we can imagine or dream up. The internet might even give us even more amazing things to daydream about. But it's not only a writer who daydreams. As long as there are sunny days with kids wishing school was out and as long as there are romance and love, people will be doing some daydreaming, don't you think?
–Ah, but letter writing. They might be right about the letter writing. It may be a dying art with everybody shooting messages across cyberspace without having to lick any stamps. (Oops! Showing my age again. I guess I should say attach any stamps. Nobody licks stamps these days.) I'm sure they said the same with the telephone and letters no doubt took a hit then too. We send cards. Some of those cards have our feelings expressed in perfect words written by someone else. Other cards even sing to us, but how often do we sit down and write a letter. And yet, don't you love getting a letter in the mail? An old fashioned full of news (Christmas one-size-fits-all newsletters don't count) letter just to you. Or a card with some good wishes written down on it by the sender.
–When I'm researching a time period, I feel as if I've received a gift when I come across a book with actual letters written by someone who lived in that time. I did some research on WW I for my book, tentatively titled Angel Sister, that will be out in January 2011 and I found a book of letters written by a soldier from Kentucky back to his wife. Perfect material for me to get the feel of what my character might have gone through as a soldier. But unless somebody is printing out their e-mail messages or saving them, that kind of thing may be lost to future generations. Of course a lot is saved out here on the net. Think of all the blogs. That's what this is – a letter to you. So maybe there will be more material than ever before. Just in a different format.
–What do you think is being killed off by the internet? Books? Brick and mortar bookstores? Music CDs? Secrets? Privacy? I don't know about any of that. I just know I'm not about to let the internet kill off my daydreaming. Or wool gathering. I've got a new bunch of characters to dream up.
–Hope you dream up lots of fun things this week – while you're enjoying the internet.